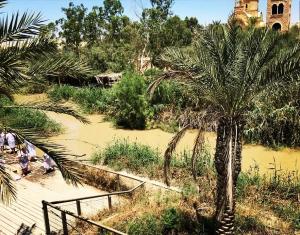 It is tea break time. Which means that a thousand Anglicans are descending as one upon an array of tea, coffee, and biscuits. The cacophony rises up as a prayer, as an offering to the One who knows that if the Christian, nodding however vaguely in the direction of historic Canterbury, doesn't get to have a cup in between every session, the whole fabric of Christian fellowship will unravel. 
Yesterday, we climbed into great air conditioned behemoths to be driven up and down this beautiful land, peering into various corners of modern and ancient history. In my case, it meant first putting my feet gingerly into the muddy (and possibly foul?) waters of the Jordan River. Felt like Naaman, staring in horror at the choice presented to him. My rivers are better, he mutters, saddling up his steed to ride away as quickly as possible. I stood and watched three Russian women, clad in white, bathing themselves in the stream's murky "depths." Prayed they wouldn't go away with something incurable. 
Then back into the bus and on to look at the ruins of Qumran, to gaze at the distant caves hewn straight out of the side of the mountain. There again, though there is none now, the water was the Main Event. The guide told us that fifty separate Mikva baths have been excavated, and the precise channel by which water was conveyed to an enormous cistern. The community had to bathe at least twice a day, though maybe more, in a land where water was not, even then, abundant. We were then directed through the Qumran Community Gift Shop to contemplate such expensive trinkets as the soul of the desert dwelling ascetic would have adored. (That's just a little joke.) 
Then back to the bus to finally try out the healing waters of the Dead Sea. And by "try out" I mean that Matt and I labored all the way down to the edge of that ever shrinking lake, took our shoes off, stepped into the water, took pictures of each other, and then turned to go out, whereupon I discovered that a beautiful Arabic speaking woman, lathered in mud, had taken my shoes and gone away with them. Matt discovered her, introduced himself kindly and asked for them back, since it was either recover them, or offer up his own back to convey me up the hill. The ground was very hot and dry. I couldn't possibly have gone barefoot for the rest of the afternoon. Fortunately, she returned them without argument. Restored our spirits in the Caribbean themed bar, watching the braver element floating along on the salt and mud. 
Today, back in the cool air conditioned conference hall, the thing that strikes me, after two full days surrounded by this cheerful assembly of global Anglican Christianity, is that it's nice to see the movement grow up and come into its own. The last time I was here the American church, being in the death and birth throes of crisis, that now almost forgotten battle for the soul of the Anglican Christian, occupied a substantial portion of the Gafcon frame. So many of us back then were in the thick of battle—tired, discouraged, losing, and honestly, in pain. Gafcon forming and meeting at that moment gave us the push to carry on through to a solid resolution, a structure that, in spite of trial and heartbreak, is really a church.
I had been vaguely anxious about coming back. I was worried that all the wounds of battle would break open and I'd have to relive 2006-2011. We would be asked to tell about how it was. We would have to give a testimony of how God brought us out of The Episcopal Church and into The Anglican Church in North America. Or, as some like to think of it, out of Egypt, through the Red Sea, and into the Promised Land, a biblical image I'm happy to embrace especially remembering that once the people of Israel (very like Anglicans I am sure) got there, it took a lot of time and confusion to really settle in, and even then it didn't work out they way they thought it would. But, honestly, even for the power of Christian testimony, even to proclaim God's providence and glory, I wasn't eager to relive the past. 
It is a relief, then, to discover that America is only one small part of a vibrant Christian community. The camera angle has widened out and you can find us over in the corner, busily carrying on. As apostasy metastasizes all over the communion, it's a consolation to find that we're not reliving the past so much as offering encouragement and strength to those just now going into their own times of trial. And, better still, the time for them might be shorter, because of the steady and faithful work of Gafcon, and certainly less isolating. The choice no matter when and where you find yourself having to make it, is never easy. You stare into what seems will be a waterless future, where there is no food and no water, and you are sure you will loathe the worthless food. But look more carefully, adjust your focus, and see that the water is really there. That it's not muddy and suspect. It is, rather, clear and good, healing and true.