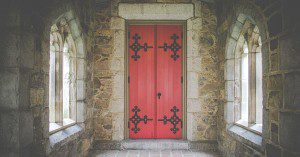 It has come to that alarming moment in Advent where I look at the calendar and realize that somehow the season is suddenly about to be over. I thought I had time. I mean, I knew somehow I didn't, but I shoved that knowledge down into the depths of somewhere and ignored it. But the cold hard fact of the number of days broke through my self-deceit. Either I am going to wrap the pile of presents that I've shoved into my office so that it only looks like I'm collecting garbage—the best way to hide gold in plain sight—or I am going to keep procrastinating, like that root canal I kept avoiding that time, knowing that if I put it off, I will hate myself very soon.
Advent, and then Christmas, of course, are not supposed to be about self-loathing, but about joy. That's the point. Joy for oneself, joy for others, joy for the whole world. It's one of the reasons for the season. So it is curious that the lections for today, at least in my church, juxtapose the question of joy against the question of judgment, the terrible moment of reckoning when what you had refused to face is suddenly thrust upon you and you can't any longer look away. I say question because, even though most human people have settled it in some fashion or form for themselves, the grand question mark—What Does It All Mean—does hang out there, mocking. Sadness and chaos usually win the day over the more elusive hope of joy. At least it feels like that if you are scrolling through the news.
Joy and Judgment, Quiet and Chaos, you can swing back and forth between them, trying to catch hold and land on the joy and quiet side, but being wrenched away by grief and trouble into the ordinary trials of life. Every now and then you catch your breath and think, It's Ok, but then something new and terrible happens to destroy it all.
But that is partly because, if you think it is your joy, or your quiet, or even your judgment, or your chaos, you've only seen half of the picture. Which is the trouble with a secular vision of Christmas and life in general. "How is your Christmas coming?" someone asked me a bit ago, and I danced an internal jig of panic and rage. My Christmas is a mess, I said to myself, but out loud I said, "Fine, I'm almost done shopping." I should have said, "It's not mine. It belongs to someone else."
That would be God. In the Zephaniah reading, it is God who does the actual rejoicing. He commands Israel to rejoice because the source of her sorrow and trouble has been done away with, the judgment that she so furtively hid from was suddenly and incomprehensibly removed. And then the prophet announces, 'He will rejoice over you,' and the even stranger, 'He will quiet you with his love.' The reason that you'll finally rejoice is because of some strange bewitching work that he did.
God is the one who rejoices. But does anyone know or care what God is doing? It is my own emotional trajectory that consumes me. I fly from panic to anxiety to sorrow to momentarily delight and then back round again. And surely I am not alone.
Just look at the crowds struggling out to have a look at John. Imagine waiting for four hundred years for God to say anything, and when he does, it is harsh, unbending, disappointing. Repent, cries John, you snakes, you children of snakes, which is a rather mean way of calling us all children of Satan. It is appalling, really, unseemly, and a lot of the crowd retreat in horror.
So which is it? Is God angry? Is he happy? And who cares what he is on about if I still have to face "my Christmas" or worse "my life." The world wanders away back to its own rollercoaster of ugliness and garbage laden satisfaction. But if you stick around a few minutes longer you'll see that John turns away from the crowd to face that single, lonely figure—the one in whom every word of Zephaniah becomes flesh. Israel, and the wide world, collapse under the weight of having to look at what a mess they are, and he, single handed, puts it all back into order, pays all the debts, cleans up all the garbage, restores the fortunes of the one who didn't count the days, who didn't know how to face facts. He does it, he consumes his fair and reasonable judgment, and so it is his property to rejoice.
So that you, O bystander, O person who failed to solve even your own problems, let alone the problems of your family or the world, could go to church. So that your reasonableness could be known to yourself and to other people. So that you could let your requests be known by he himself. So that you could even rejoice. So that you could put yourself into his hands and let him rejoice, and make you quiet with…what does it say in that other reading? Oh yes, a peace that you cannot fathom or begin to comprehend.