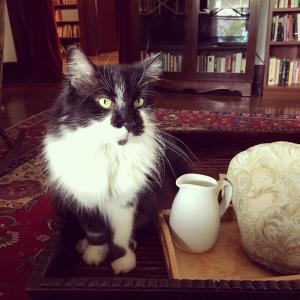 Good Morning. It's a warm, gray day—a brief respite from the long winter, which will be back on Wednesday. We are trying to change the rhythm of our podcasting, a surprisingly difficult thing to do it turns out. We taped this last week, and Matt had the specious idea of videoing it, which we did, in a sort of a dark corner. Don't worry, that link is only audio, but if he has his way, eventually there will be video as well for future 'episodes' or 'offerings' or whatever you call 'em. This week we talked about finding your tent peg for the Jewish year 5776. I'm pretty sure you don't want to miss it, but I could also absolutely be wrong. Hopefully from now on we'll record mid week and still post on Monday.
Now, links, here is the article we have a good long laugh over.
Here is my mother's beautiful monthly post.
Here, if you've been anxiously praying for peace in Mali, is an old but good article about greetings.
This
is important news.
This is long and fascinating.
This is cool.
This is upsetting.
Here's some world traveling.
Speaking of which, my time with the Persuasion Podcast in case you missed it last week.
Here's something funny.
These look delicious.
And an excellent sermon and class.
And that's it for today. Going to go poke around in the garden looking for signs of hope.