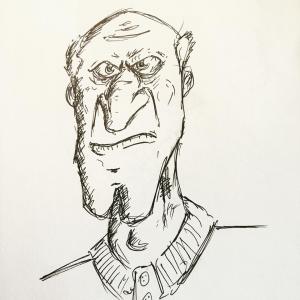 My feelings about the Dentist.
I'm kicking off my wretched birthday month with a lot of time spent at the dentist. I'm not sure why this had had to be my particular cross to lug around, but I have really bad teeth combined with a powerful gag reflex, both of which most dentists determine to be moral failings. As in, if you were a better kind of person you wouldn't have these very bad teeth. Never mind that my teeth are crowded into a too small mouth, 6 pregnancies with lots of vomiting robbed my enamel of everything it needs to be happy, and I am an easy person to dismiss and humiliate because I just meekly go away without saying any more about it. So anyway, we did a podcast, but it probably wasn't very good because I was dreading the dentist the whole time. I can't even remember what we talked about, but I'm sure it will make you a better person, even though I, with my failure of a mouth, am beyond amendment. Enjoy!
Let's see, do I have any links? I don't know, my mouth hurts.
This is Very Important.
It is impossible for me not to vaguely agree with this.
I loved this.
And this.
And this is also Very Important.
And I have watched almost every food video by this person. I am completely obsessed and long to try to make all her food.
And here is an excellent sermon.
And that's all for now. I am going to take a large pain pill and rail against the Almighty for the barbarism of Modern Dentistry.