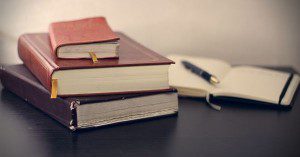 A "friend" alerted me to something called the Thrive Journal yesterday, which unfortunately has no videos of any kind on youtube, which led me to watch, instead, two or three reviews of the Self Journal. Unfortunately for me, before wandering down this questionable rabbit trail, I just happened to read through Colossians, which doesn't take that long even half awake, and caused me to notice something sort of depressing—Paul is awfully obsessed with Jesus. I traced my way back through the whole book looking for lovely references to myself, but found none. The Thrive Journal, on the other hand, is all about me.
This Journal—"Your New Wellness Sidekick," and a "Journal To Discover Your Healthiest Self"—is an organized and thoughtful invitation to consider every facet of yourself. In the daily planner part, you begin by listing three things you're grateful for (this is actually a great idea and someday I am totally going to try it). From there you copy out the day's "focus or affirmation." The example is "keep the energy going!" Rachel Hollis' would be, "Wash My Face!" Mine would be, "I wonder where the dog sinned this morning!" Then you mark down how you felt when you woke up—"energized!" is the example, but for me, it would be something like, "NOOOOOO"—and begin to keep track of everything you've eaten. I assume those notes carry on through the day. Again, not a terrible plan, to keep track of what you might be abstractedly popping into your mouth, up to a point, until it becomes soul-crushing. Then, on the facing page, you mark down any exercise or activity, your daily steps, how many minutes you were able to meditate, how you felt during the day (there are boxes to check or fill in—happy, frustrated, stressed, busy, inspired, etc.), and then finally an opportunity to assess, as you close out the day, if you are closer or farther away from your goals. The journal also includes meal planning, shopping list pages, places to work out your weekly goals, and boxes to grade yourself on your overall success. You can give yourself a wellness score for the week (1-5), list what you're proud of, what worked and didn't work, and what you're anxious or worried about. There are also boxes for habit building, and a place to write down what or who is your motivation.
So, having taken a gander at the product, I thought, as a demotivational Christian, that I might warn you that Jesus will likely make your life miserable while you're trying to use it. This is because, don't you know, the focus of your life, if you have the Holy Spirit bashing around in your heart, mind, and soul, is Jesus who "is the image of the invisible God, the firstborn of all creation. For by him all things were created, in heaven and on earth, visible and invisible, whether thrones or dominions or rulers or authorities—all things were created through him and for him. And he is before all things, and in him all things hold together. And he is the head of the body, the church. He is the beginning, the firstborn from the dead, that in everything he might be preeminent. For in him all the fullness of God was pleased to dwell, and through him to reconcile to himself all things, whether on earth or in heaven, making peace by the blood of the cross."
Whereas you, you "were once alienated and hostile in mind, doing evil deeds…" I mean, if you compare the two descriptions, I think you would probably feel uncomfortable about carefully writing down every single thing you feel and think and hope and desire, because some of those things you are going to wish you could forget, especially as Jesus "has now reconciled" you "in his body of flesh by his death, in order to present you holy and blameless and above reproach before him, if indeed you continue in the faith, stable and steadfast, not shifting from the hope of the gospel that you heard…"
In other words, Jesus is a glorious, strong, powerful person who brings your alienated, hostile self into his own body by the sacrifice of himself. Of the two of you, he is a lot more interesting to think about, meditate on, wonder about, talk to, and consider. He is eternal. He is rich. He has everything you need. Setting your mind "on things that are above" is going to be a lot more satisfying to you than setting your mind on "things below" of which this Journal is probably a pretty good representation, because "you have died, and your life is hidden with Christ in God." You are caught up in him. He is keeping you safe and secure forever.
The first person I watched talking about the Self Journal concluded that she had enjoyed the journal very much and felt much more connected with herself, happy, and encouraged about all she had learned about herself. Well, yes, of course, if you keep careful copies of everything you eat and feel, you will begin to see patterns emerge and be able to get a bird's eye view of what kinds of thoughts or behaviors might be entrapping. And that would be fine. Self-knowledge, as long as it is truthful and real, is a good thing. But having filled out this journal, having reached your three goals that you lay out for yourself in the beginning, what then? What will you do with that knowledge? And in the process of collecting it, what will have been the price? Because everything comes at a cost, even self-knowledge. "So, in thirteen weeks, I feel that I have become a better person," she concluded, and thanked me for watching her video.
And there is the deep, primordial, troubling reason that you, as a Christian, should feel uncomfortable about using this journal. Because that is not the end of your life—the hope to which you are called—to look at your life and conclude that you are "a better person."
No, "putting on the new self" is the business of "being renewed in knowledge after the image of its creator. Here is not Greek and Jew, circumcised and uncircumcised, barbarian, Scythian, slave, free; but Christ is all, and in all." The more you consider yourself, as a Christian, the more you despair and cast your eyes upon Jesus. The more others consider you, the more they find themselves drawn to Jesus. "The word of Christ" is supposed to "dwell in you richly" which won't leave you very much time to consider how you're feeling every moment. And this will liberate, will free you to do what you like, eat what you like, read what you like, be who you like, because the person you like more than anybody else is Jesus. You can race along through your life, stopping every other moment to look at someone else and drag them along with you towards your greatest curiosity—Jesus.
The Die Journal, unfortunately, would probably not be a great hit. How can I die to myself and live for Jesus today? And honestly, even this would be a wretched task, because you can't know and wouldn't be able to plan for it anyway. You don't have to be in control of the goal, because you aren't the goal. Jesus is. If you have to have a journal, find a blank page and write down whatever comes to mind. Then shove it on a shelf and forget about it. Jesus will never forget about you, so nothing is lost in the forgetting.