Apparently, today is International Cat Day. Here is a cat who numbers all days as hateful, especially days when she is drug back in from the neighbor's yard to which she persists on fleeing, as if they would love her better than we do.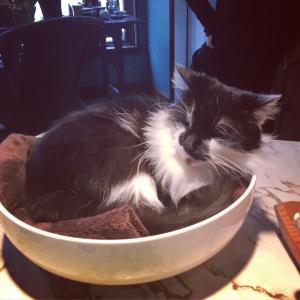 I think I've already documented the great trauma of having dysfunctional cats, but on this auspicious day, I might as well do it again.
First, we have to cover all our living room furniture laboriously with sheets every night before we go to bed, because the cats are dedicated to shredding everything to bits.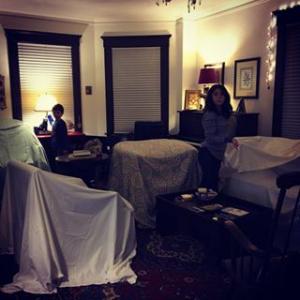 Second, we constantly have to change brands of food, because this cat gets bored and refuses to eat if she can't have a new flavor. When we fail to buy the food she likes, she deigns to be fed on salmon, chicken, cake, ground beef, and cucumbers, but turns up her delicate nose at lamb, steak, and anything that would be convenient to feed her.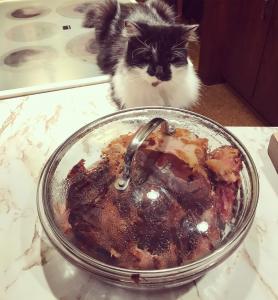 Third, we feel bad because this enormous cat won't come out of the two bedrooms where he lives day and night. During the day he sprawls luxuriously on piles of jumbled blankets, exhausted by the work of being alive and then, when you come in to greet him, hitting you because you didn't come before. During the night he prowls up and down like a roaring lion, eating mice and some times leaving them out as appreciative cadeaux.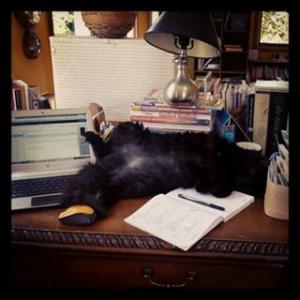 This is the only picture we really have of him. He doesn't like being photographed.
He is still essentially mentally ill, having never recovered from being trapped in our first house for six weeks during the coldest January of our lives. We had to leave that house in haste, for reasons that are well documented on the internet, and before we could catch him and bundle him into a carrier, he spooked over the cacophonous moving of furniture and the din of a whole church gathered to shove us and all of our garbage into temporary housing in about a day and a half. This marked the advent of his hunting prowess, of course, because he survived–against the imaginations of everyone–inside the guts of the house. We only got him back by tearing down part of the basement wall, climbing into the opening, and dragging him out—emaciated and distressed—partly against his will, but not really because he did sit and watch our efforts without running away.
I have often wondered, hunched over in snatched moments on the jumbled bedclothes (because no child ever makes her bed when you tell her to, Ever) patting his enormous bulk (because he is huge now on account of what I am sure is Emotional Eating, but wouldn't you, if you had huddled starving in a dark cold wall for six weeks, eat far far too much if given the opportunity?) contemplating the curious stages of healing in the Christian life.
Having got him back, he first retreated into the dropped basement ceiling of the new house, and chewed off a lot of his own hair. But gradually he stopped that and started to bulk up. After a while he ventured as far as the basement door, his eyes wide with loneliness and grief, but no one could touch him. Whenever we would go away and someone else would come in to feed him, we would never see him for at least three weeks upon returning. Gradually he moved from the basement into the girls' bedroom. And then after a while, we were able to pet him, and then pick him up. Now he sits atop Elphine after his nightly hunt and smacks her in the face so that she will pet him, but he will never come into the living room to sit with us, as Frances does, or arrange himself on a dining room chair during dinner, glaring at each member of the family in turn, trying without success to use the force of his personality to procure a dinner plate of his own, as Frances does.
It will take entering into the pure effulgent glory of the world to come for his mind to truly heal, for his fat cat paws to know the freedom of a wide-open room without corners and shadows and exile.
"I blame KJS," my mother always says when she tries to shove him over (because he does like to spread out all over her bed when she visits). "There is no perfect healing in this life."
But there is the longing for it, the hope of it, the rare satisfying patch of sunshine. Animals have to be in heaven (here is the biblical proof for it) not only because God made them and they are part of his glorious creation, but because of us and our hateful ruining of his great work. We cannot bring the healing we ourselves so desperately need. We can only keep trying, keep putting out saucers of salmon, keep Instagramming, keep rescuing them as we ourselves are rescued by a merciful and gracious God who came and tore down the dividing wall of our alienation, drug us out—broken and ill—into the light, and fed us with his own self.
Happy International Cat Day! The dogs of the world are jealous of you.