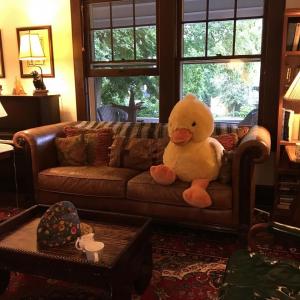 A Happy Labor Day to you all. We climbed back into our ordinary routine with yet another podcast about Tullian Tchividjian–this time answering a critic who thinks I have been too mean. Matt wouldn't let me put the comment up because he is mean, but we went through it line by line and then followed it up with a special, and very emotional, reading from The Passion Bible. If it doesn't set you up for a great week, I don't know what will.
I do have some links I think.
Here is something very interesting about used teabags being sent to missionaries. I broke my rule of never commenting on anything to add my own thoughts. It's a great post.
This is a long thing about The Good Place, which I'm watching, and which I haven't completely read because there are spoilers. My favorite line from the show, so far is, "Why do bad things happen to mediocre people who are lying about their identity?" I was pretty dubious at first, as I said last week, but I'm warming up pretty well to the premise.
Here is a brilliant representation of the solar system. So cool.
This is really interesting.
This is so funny.
This is really delicious.
I'm pretty sure I should read this book.
And here is an excellent sermon. No class because he forgot to push record.
Have a great week!