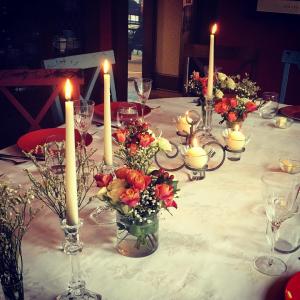 I happened to see a few days ago that Meghan and Harry aren't being invited to dinner parties anymore because they deliberately violate the seating arrangements of their hosts by sitting together. Painstakingly arranged affairs are irreparably spoiled because they want to hold hands under the table. Not being on the inside of Britain's royal scene, I can't claim to know the veracity of these reports. If you can't trust Pop Sugar—or wherever it was—what can you trust? It must be true because it would be so shocking, and my heart whispers that it must be so.
I myself, of course, have ever been in the position of having my dinner preparations ruined by someone as important as British Royalty. When people come to my house my considerations are very much more base. I want my guests to see the view. I want them to like the food. I want them to be comfortable, in so far as sitting on hard wooden chairs and eating the usual post-church pork roast is ever really comfortable. But I have watched a lot of Jane Austen and The Crown etc., and I can imagine—indeed, that is how I go to sleep at night—what it would be like to have the Duchess of Sussex spoil my plans. My scorn, if I had any, would be insurmountable.
Catapult from there to Coffee Hour which is very much a different kind of social affair. Exhausted Worshipers wander down and group themselves however they like, little paper plates heaped high with ham, turkey, cheese, bread, vegetables, and the odds and ends discovered by church ladies (like me) in the back of the fridge on a Saturday night. One week I devoured the last portion of a gourmet Louisiana sandwich with 3 kinds of meat, three kinds of cheese, oil and vinegar, herbs and remoulade. Sometimes there are gorgeous soups. Always there are sweets—brownies, cookies, crumbles, bars. The food is arranged on one of our ugly brown, parish hall tables. If you've survived church, and sometimes even if you haven't, you stagger past the table, fill your Styrofoam cup with coffee, and then have to think about where to sit and who to talk to. Will you collapse next to a friend whom you haven't seen for a while? Will you sidle up to a stranger? What about the person who persists in putting you off? Where will you sit? How much energy do you have? Can you die yet one more hour?
No matter where you sit, there is always yourself to contend with.
So, if you are, as I hope to someday, working through the Annals of Christian Irony, this morning's gospel is the perfect first chapter. There is God, though nobody wants to admit it, reclining at some high society dinner table. We know from previous occasions that, in order to snub him, Jesus has been made to sit in front of the food with his feet unwashed. We know also that he has been tested and insulted by the upper crust as he is in the very act of lifting that nourishing morsel to his lips. There's nothing so gratifying as catching the hottest commodity of the day, though what is the point if you can't put your dig in before the dessert.
But Jesus can give as good as he gets. He leans back and observes how it is that everybody decides where to arrange the heavy bulk of personhood and pride. The custom is to go in and sit in the place–and next to the people–of your own sphere. Some degree of self-knowledge is surely required. If you are working in the kitchen, you probably wouldn't be so foolish as to unabashedly prop yourself up next to the host. But what of the murky middle, where the rest of us live? You constantly have to think about yourself and all your relationships and wonder how important you really are, and if anybody even likes you. If you guess right, you go home in triumph. If you judge wrong, your dinner plate is heaped high with humiliation. You creep home in shame, dark ugly thoughts of your host clouding your emotional horizon. Still, there is a way out, offers Jesus.
Why not, he suggests, when you walk in, take the lowest place, rather than jostling for the most important? Whether you are the Duchess of Sussex, or a lowly person huddled over the cold cuts after church, why not make your calculation as if you were the least important person in the room?
Everybody stops and stares. The dinner is ruined. Jesus won't be invited back.
How funny that he—who is, as I said, God—who has come down so far from the glory and honor of his proper sphere, for whom no earthly chair is good enough, would sit and watch others scramble for recognition and honor. If the host had his wits about him, which none of us ever do, how would he have been able to sort out where to put him, even if he wanted to? How curious to find God bothering to sit down and eat whatever is on offer. And while he sits back, not worrying very much, everyone else is trying to figure out who they are and what's coming to them.
He concludes, probably sadly, "For whoever exalts himself will be humbled, and he who humbles himself will be exalted." And the whole world groans, and western civilization adjusts itself for a couple thousand years, but then chucks it over, because the effort is just too much.
I'm so grateful that I get to go to the kind of church where you have to get up out of your pew and wander forward for communion. It isn't delivered to you in your padded chair—the little sip of juice and crumb of bread—for you to consume in comfort. No, you have to get up and face down the long aisle, side by side with a lot of people you don't know very well, and probably wouldn't like if you did get to know them. And because we haven't managed to put in a rail and kneeler (which I hope we shall one day), you have to stand, your hands outstretched, to receive the bread and then drink out of the cup along with everyone else. You take and eat and then circle back, your life upended, reordered.
That dinner where Jesus sat and watched the crowd was only the first course. He got up when it was over and walked for many more days, arranging the cosmos to participate and witness that brutal feast that brought us, who were far off–so far away from the table that we didn't even know it was there–close by a food and drink so nourishing that we were made whole. It isn't any longer a matter of deciding where to sit, or who to talk to, or who you are. Even you are invited to sit by Jesus, to eat his body and drink his blood, to die with him, to take the lowest place. When you swallow down yourself, sure that the death will be intolerable, you discover that you are not alone, for he is there with you.