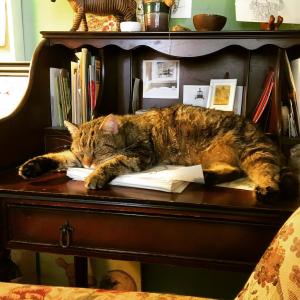 I thought I'd just put it all in the title so you won't be alarmed or unhappy if you're trying to stay away from controversy and politics on this crisp, apocalyptic Monday morning. That's the tack I'm trying to take, except that I'm married to someone who loves an argument and a good time and can't help himself from saying all the things. I know, there's an enneagram number for that, and for the fact that I don't want him to. Don't lecture me. Instead, listen, if you feel like it, to this week's podcast, but also, if you don't, that's fine too, seriously, do what you want. It does end abruptly around the 50-minute mark when we are both mid-sentence, but we'd already said plenty, so we decided not to go in and paste on a real ending. Enjoy!
I do have a few links, though not many. Here is the thing I wrote about Aimee Byrd's book last week in case you missed it.
This is super important.
This is so weird.
This is interesting.
This is also important.
This is brilliant.
This is delicious.
And here is a perfect sermon and a helpful class.
Sorry to be so light on substance! Everyone is clamoring for me to do something, who even knows what.