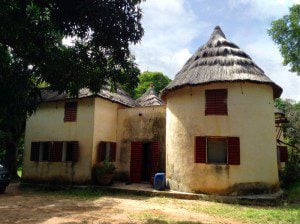 This is the house where I spent my late childhood and teen years in Mali, West Africa. It is built of mud, plastered with a thin layer of cement, and then whitewashed. It is thatched with straw over the four houses–bathhouse, kitchen house, two bedroom houses–all which lead out into the living room with a tin roof in the middle as if it were a courtyard. I didn't get to spend as much time in this house as I want. I was always having to go away to school, and finally to America for good. But there are things about this house that have formed and shaped the way I think about all of eternity. The view from the kitchen window–the square house on the left–out over the fields; sitting on the porch at night over dinner; the small forest of carefully marked trees at the edge of the clearing; the sound of the rain on the tin part of the roof. I expect, somehow, that when I finally die, this house will be like a vestibule, some kind of door opening into wherever it is that you begin your journey of going further up and further in.
But honestly, in this life, you can live anywhere. And for me, that place is Binghamton–sometimes I like to think of it as Babylon. Though, now that my mom and dad have bought a house just on the other side of our beautiful park, it doesn't feel quite so foreign. But they have come here stripped of everything that would have made this place feel like home, strangers in a strange land, trying to cobble together another kind of life without any of the stuff they had planned on having.
Over this week a friend and I have gone through everything they might need to begin to feel comfortable, and have put together a list. Here it is. This breaks it all down into increments, and you can give directly through that site, or you can dm me and I'll pass along anything you want to them. We had thought about one of those registries where you can click on an item and have it sent directly, but that is too overwhelming right now. If you go to the site, it looks like they maybe want ten roll-top desks or something. But that's just the number of people giving a certain amount to get to about the price of a roll-top desk, resembling as much as possible the one they found with cries of joy in Oregon all the way back in 1983. Not that replacing everything in exactly the same way is desirable–but hopefully, we'll be able to find some furniture and kitchen things that feel somewhat familiar, and make the house as much as possible the way my mom envisioned it.
Strangely, every time I look at that site, the word "needed" catches me off-guard. I have always been able to say that the only thing I really needed was the sure provision of my God, in whose hands I have never really lacked for anything, even though, like everyone else, I feel an immense sense of lack all the time. And I do say that still, though with that much plumbed well bottom of homesick grief that I get about every seven years, only this time the well is all full up. And I have only a small cup of it, I think, compared to my mom who, last night, stood over a pot of mushroom soup (requested by the soup obsessed birthday girl) and remembered suddenly that her grandmother's crystal glass bowl with the little feet was "in the truck." That is the line we rehearse over and over. Those pictures are "in the truck." That book is "in the truck." That potato peeler is "in the truck."
Who knows where the truck is. Only God does. Sometimes I think I had better get in the car and drive to Indianapolis and find it. And then the next minute I remember that I wouldn't have any idea where to begin if I did go there to do that very thing. I hope you will keep on praying, somehow, because now that the first adrenalin of shock has worn off, the spiritual landscape on every side feels like climbing over rubble, like a deep, dark, treacherous valley, like, as Isaiah put it (me paraphrasing) 'they look aghast at one another; their faces aflame.'
You pray and I'll listen to this as I weep gently onto my stupid phone. Thank you in advance for praying.