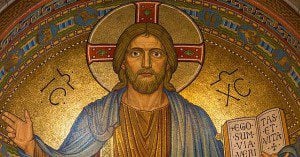 Jesus watching me organize my day.
The First Thing
My proper review of Beth Allison Barr's The Making of Biblical Womanhood is out. It's paywalled in the hopes that you'll be so anxious to know what I said that you'll pony up your hard-earned money (or your free covid money) to read it. I must say, it was hard to write because there was so much that I objected to. I didn't swing quite so wildly as I did at Jesus and John Wayne, but, well, to quote myself, it seemed like Barr was determined to find a conspiracy in "every library carrel." It was hard to take seriously someone who describes John Calvin as a "radical Puritan translator" but I did my absolute best.
You can subscribe here, and listen to the podcast Melanie and I did here, though maybe you already did that because it came out last month. Seriously, you might want to subscribe because I have something coming up on Gaslighting, and African Traditional Religion, and other things, and Matt wrote something long recently that should appear soon. I say this as someone who has a hard time spending any money to read anything ever, but then goes and buys…well, all kinds of junk that I don't really require.
The Second Thing
I felt bad all day on Tuesday after annesplaining about how to be a good person, because I was trundling along under two perhaps misbegotten assumptions–1, that your best thinking time is in the morning, and 2, you have a job that requires some kind of heavy mental travail rather than the physical kind. Maybe you are just absolutely not a morning person, in which case your life should look more like this:
10am wake up; 11am eat something healthy; 12pm face the people of your life; 1pm start working through your list for the day; 5pm take some exercise; 6pm get together with friends; 8pm pray and read your bible; 9pm start in on your work for the day; 4am go to bed or something like that.
Or this: 4am wake up and walk ten miles to work; work all day; 6pm walk home to your meagre meal and as much sleep as possible before you have to do it again the next morning. Lest any of us (me) think we have a bad deal, trying to strike a balance between thought work and drudgery, we (me) should try being a touch more grateful because I think this second kind of day is more usual the world over.
The Third Thing
And finally, I managed to watch this video before it was hidden from view, but it looks like you may actually be able to watch it at the link. Here's part of the lyric:
WE'LL CONVERT YOUR CHILDREN,
HAPPENS BIT BY BIT,
QUIETLY AND SUBTLELY [sic]
AND YOU WILL BARELY NOTICE IT…

WE'LL CONVERT YOUR CHILDREN,
REACHING ONE AND ALL.
THERE'S REALLY NO ESCAPING IT
'CAUSE EVEN GRANDMA LIKES RUPAUL.
AND THE WORLD'S GETTING KINDER.
GEN Z'S GAYER THAN GRINDR…

WE'RE COMING FOR THEM
WE'RE COMING FOR YOUR CHILDREN
WE'RE COMING FOR THEM
WE'RE COMING FOR THEM
WE'RE COMING FOR YOUR CHILDREN
FOR YOUR CHILDREN…

THE GAY AGENDA IS COMING HOME
THE GAY AGENDA IS HERE!
I'm super sad it was taken down because the comments were some of the best the internet has ever yet produced. I wish I had written them down for myself. Some of them were just straight up very pertinent Bible verses. Truly, these are fighting words, to which I would respond, we're coming for your children, picking up our weapons of Faith, Hope, Charity, and the Truth. A little bit of prayer, a little bit of compassion for all the children of the world, and a little bit of courage will go a long way against a foolish and anxious "agenda" like the one. Truly, it may be that I have more to say about this, but I have to run along to the next thing.
Anyway, have a great day! Or any kind of day that suits you best, hopefully one that is obedient and humble and grounded in the light of the truth.