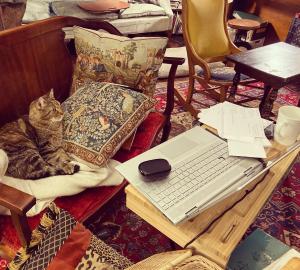 It is a gray, cold day here in the Northeast, as everyone expected. We're supposed to have some snow later and that is also not unusual at all. To acknowledge this fact, we've done a long podcast about our cats, revivalism culture and theology, Anglican altar calls, how too many people read the Bible like Amelia Bedelia, how the "imago Dei" needs to be considered in the whole context of scripture, how Satan is not the good guy in the Bible, how it's bad to misgender God, and then we wrap up with a verse from the Passion Bible. It's all the usual stuff, in other words. Hope it makes your day into something!
Here is my blog about the clip we play.
I'm so sorry to say I'm super light on links. However! I have started a substack. Here is my introductory post, and then another and another.
And I wrote another thing at Stand Firm.
Here is an article that corrects some mistake I made in the Friday Takes–I think, or at least makes a word I didn't really understand more clear.
And here is a fantastic sermon and a helpful class.
Have a nice day! Hopefully next week I'll have a lot more links and stuff–maybe.