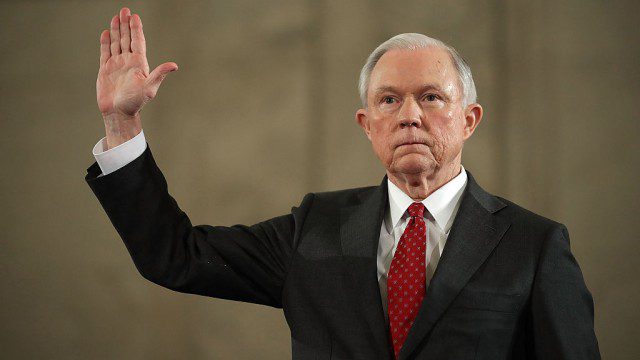 Jeff Sessions, the new U. S. Attorney General, America's chief law-enforcement officer, is another member of the Trump administration playing fast and loose with the truth. When asked directly if he had been in contact with Russian officials he said he had not. That was not true.
In a Washington Post article we are told:
"Then-Sen. Jeff Sessions (R-Ala.) spoke twice last year with Russia's ambassador to the United States, Justice Department officials said, encounters he did not disclose when asked about possible contacts between members of President Trump's campaign and representatives of Moscow during Sessions's confirmation hearing to become attorney general.

One of the meetings was a private conversation between Sessions and Russian Ambassador Sergey Kislyak that took place in September in the senator's office, at the height of what U.S. intelligence officials say was a Russian cyber campaign to upend the U.S. presidential race.

The previously undisclosed discussions could fuel new congressional calls for the appointment of a special counsel to investigate Russia's alleged role in the 2016 presidential election. As attorney general, Sessions oversees the Justice Department and the FBI, which have been leading investigations into Russian meddling and any links to Trump's associates. He has so far resisted calls to recuse himself."
In addition we are told:
"In January, Sen. Patrick J. Leahy (D-Vt.) asked Sessions for answers to written questions. "Several of the President-elect's nominees or senior advisers have Russian ties. Have you been in contact with anyone connected to any part of the Russian government about the 2016 election, either before or after election day?" Leahy wrote.

Sessions responded with one word: "No.""
The reality is that the correct answer was "Yes."
We shall see how this goes but the person who should be investigating this is Sessions himself. It is time for a Special Prosecutor to begin looking into this. My guess is many conservatives will object fearing the huge scandals they so dearly wanted to pin on the Obama administration.
Follow John on Facebook and he might bake you cookies.