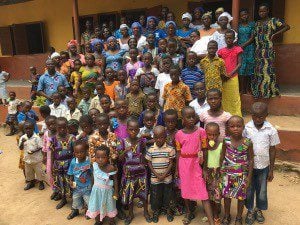 Scripture readings for the Sixth Sunday of Easter (Year C; May 1, 2016): Acts 16:9-15; Psalm 67; Revelation 21:10, 22-22:5; John 14:23-29
I'm writing this lectionary reflection from a guest room in the manse of Trinity Congregation-Kwashieman, a Presbyterian Church of Ghana congregation in Accra. I'm co-leading a travel seminar from Union Presbyterian Seminary and our focus is evangelism in Ghana. The pastor of this church, Samuel Nortey—who studied at Union six years ago—is director of Mission and Evangelism for Ga Presbytery. He has organized several new church plants in more remote areas of the neighboring Central Presbytery, several of which we visited yesterday and today.
Samuel is as close as I have come to meeting a person like Paul. He is tirelessly dedicated to evangelism and church planting. His own church is adaptive and growing, supported by many dedicated lay people who are perfectly capable of running the church when he and the second pastor are away. He has planted numerous churches, including one in Richmond when he was a student at Union.
Of the many things we are learning from him, one thing is abundantly clear: he knows what is at stake for him and others in proclaiming the gospel. His motivations—saving souls from hell and not losing ground to the Muslim population he fears will overtake the Christian majority in Ghana—are certainly different from mine, but they are born of deep faith and I have profound respect for the integrity of his vision and drive. In fact, I see in him what I struggle to discern in most progressive churches: a clear sense of why the gospel matters and what is at stake.
Beginning with our children and youth, we need to do a better job articulating why the gospel matters to us as individuals and why it matters for the world. For me, this is rooted not in escaping eternal punishment after we die but in Jesus' vision of God's kingdom here and now. The end of Revelation talks about this as a new heaven and a new earth, a new Jerusalem and God's presence among us in a transformed world. I believe God calls us through Jesus to take part in the emergence of this kingdom. And I'm being reminded that we need to be as tireless and urgent as my new friend Samuel in partnering with God in this sacred mission.
As you explore these passages with your youth, consider these questions:
Why are many Christians hesitant to share their faith with others?
Why does following Jesus matter to you?
Does it matter to you if other people follow Jesus?
What do you think the visions of the new Jerusalem in Revelation might mean for us today?
What do you envision when you think about our world redeemed and transformed by God?