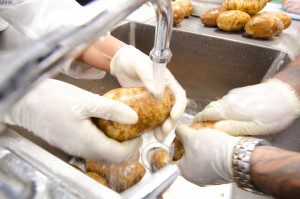 The Day I Heard "I think this takes priority over soccer" was the greatest day of my youth ministry life. It was amazing—a parent was pulling a child from a sporting event so that they could participate in the youth event I'd planned. They were actually prioritizing church over sports! I. couldn't. believe. it.
I'm sure you battle the enigmatic specter of sports all the time. I work in a relatively wealthy urban congregation, where families have access to all sorts of clubs above and beyond their public school options. These kids live and breathe dance, volleyball, football, hockey—whatever. It makes sense that it takes priority: sports clubs promise community, teamwork, notoriety, exercise—fun—the potential to win something—and parents are investing a lot of money and energy in it.
So how did it happen that this particular parent wanted to prioritize the church activity over soccer?
That Wednesday evening, our youth group was slated to serve 110 people at a local homeless shelter. We'd come together that Sunday night to do the food prep, goofed around while mixing up over 40lbs of raw ground beef, made brownies, chopped potatoes, and prepared for our big day.
On serving day, I had more kids show up than I had spots for. Whole families came. The little siblings served milk on the line. They talked to people, and served alongside each other—spending significant time working hard to interact with people they would never otherwise even notice. A couple shelter guests started to get into a fight. The kids witnessed a stellar shelter staff person talk them down—they saw what it takes to do a quality intervention. One of the shelter guests had a portable phone speaker. The kids cha-cha-cha-ed while sweeping up the floor after dinner. They worked hard, they served their neighbors, and they experienced the humanness of homelessness.
As youth ministers, we cannot underestimate the role of service work in our programming.
There are some practical reasons:
Kids who can't get on board with church theologically can still recognize that doing good work like Jesus did is a powerful thing. A lot of kids who can't say "I believe that Jesus rose from the dead" can say "I believe Jesus wants me to care for my neighbors."
They can't get this sort of work outside of their religious communities, and often, their parents can't either. This makes their families prioritize this kind of work—even over sports.
This work has profound impacts on our kids and they remember it for their whole lives.
And there are some theological, wide-angle reasons:
Every time we help a child interact with someone across lines of difference, we have an opportunity to teach them to value difference, not be afraid of it.
Every time we help a child understand systemic poverty, racism, or injustice by putting an actual face there, then we have the opportunity to show them that they are all interconnected and interdependent.
We are called to let the power of resurrection work through these kids. We are called to make them conduits of God's reconciling power, and if we give them the opportunity to work, then we give them the opportunity to become the hands and feet of Christ.
Now, I don't want to advocate ditching all religious education, or getting rid of youth group. Our youngsters also need space to process and know what they've seen. They need to know why we do this work, and to what end, and they need to form the bonds of community with each other that will keep them together. They need to know that God loves them unconditionally. But, when we ask our parents to make choices about where their kids spend their time—when we think about what our ministries truly offer our kids, this is my honest plea: empower the students to serve, because that work is more powerful than we can even imagine—for them, for us, and for the life of the church.
Note: If you live in the Twin Cities, and would like to know where we served and what it entails, please contact me.