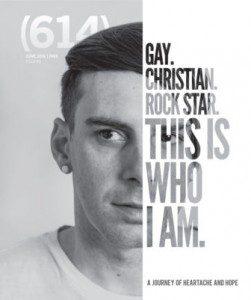 On the night before PYM16 kicked off back in February, I was surprised to see my friend Trey Pearson sitting in the hotel lobby. Based in Columbus, OH, Trey is the lead singer and heart of the very successful Christian rock band Everyday Sunday. I met him at the first PYM conference in 2014 when he joined us at the invitation of Tripp Fuller. I ran into him again at the Wild Goose Festival that summer. I later invited him to play music for some worship services I was experimenting with for my youth ministry in Chicago. After I moved to Virginia last year we've stayed in contact mostly via text messages, and I knew he was working on some new music.
Face to face in a hotel lobby in Dallas, we exchanged a hug. I asked him what was new. "There's actually some big stuff going on that I'd love to talk with you about."
Ironically, it wasn't until a Homebrewed Christianity event at an iconic lesbian bar that we had a chance to chat. With an earnest mix of vulnerability and resolve, Trey came out to me. With tears in his eyes he described how he could no longer deny who he really is. He knew that his decision would radically change his relationship with his wife and children. He knew that it would put his status as a Christian rock star in jeopardy. Yet I could see in his face a remarkable sense of relief. He was like a different person. In fact, he was finally the person God created him to be.
Yesterday Trey came out to the whole world. You can learn more about it and read Trey's moving letter to his fans here and here.
It has been a privilege for me to be a part of the growing network of progressive pastors and friends who make up Trey's new faith community. I'm glad that PYM has been a refuge and resource for him. But mostly I am incredibly proud of Trey's courage to be himself. This is a big deal in the Christian music world and part of a developing trend.
Growing up in the same kind of conservative Christians culture as Trey did, I know how hard it must have been for him—and how hard it still is for many young people who grow up in churches that don't believe people are created in God's image as LGBTQI. This is one of the main reasons I am so committed to progressive youth ministry.
I am profoundly grateful for the witness of Trey Pearson and pray that he gives hope to his fans and to many others who will learn about him for the first time because of his coming out. This is good news the world needs to hear. Thanks be to God.