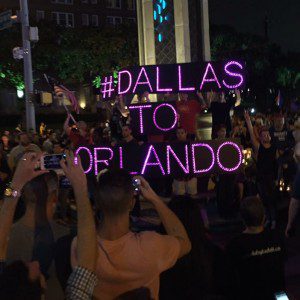 On my way to church yesterday I received the news that 50 people were presumed dead or severally injured after a night club shooting in Orlando, Florida. As of now we know that 49 people were killed and at least 53 were injured in what officials are saying is the worst mass shooting in US history and the deadliest attack on US soil since the terrorist attack of September 11, 2001.
I was numb when I arrived at church. The loss of people, and the violence against any human is something to mourn, but the added details brought me to my knees. The shooting had occurred at an LGBTQ establishment, during a Latino night event, during the month of Pride. Fear crept into my mind: how many more LGBTQ people will be murdered this month?
One of the young friends I used to work with showed up at church and we hugged. I was so glad to see him. He later sent me a note saying "I just had to see you, and be in church this morning. I was at a club last night, Yadi…that could had been me."  During the day, I kept getting messages from young people reaching out as far as Harlingen, Texas, asking for prayers and words of comfort.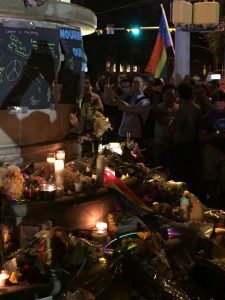 Last night my congregation and I attended a memorial service at Resource Center in Dallas, an LGBTQ service organization dedicated to people in our community living with HIV/AIDS. As I looked around I saw young people I have worked in the community waiving at me, and then I started receiving private messages.  The messages would start with a casual conversation and move to talking about this tragedy. I spent the day in digital ministry, talking about unity, compassion, integrity, solidarity, and above all, not letting fear push us back into the closet.
The entire day was a blur and I don't think I turned off my minister switch until today. When I sat down and read the names and ages of those who had passed, I finally cried. I cried because I realized that all those messages I was receiving seeking comfort and words of encouragement were from young people who were terrified by hate.
"Why do they hate us?"
"Why do people want to kill us?"
"Why can't they just let us be?"
I wanted to say to my young friends that these are questions we adults are still trying to wrap our heads around t00.
Philippians 4:7 says, "And the peace of God, which surpasses all understanding, will guard your hearts and your minds in Christ Jesus."  Today, I have no words, but a simple prayer for all those I call my people: May God helps us through this tragedy and strengthen our unity. This verse is right—I don't understand, but I desperately need God's peace.
In the midst of this tragedy, as a member of the Latino community, LGBTQ community, and Progressive Christian community, I ask that we embrace our students and we comfort them. In both secular and religious settings, I urge you to create safe spaces to dialogue because our young friends need this space to mourn and express outrage. Of course, some might not express their sadness or their fear. Some may not have even come out to you or anyone else. Please keep in mind that this incident has the potential to push them even further into the shadows. As these tragedies demonstrate the evil and dark side of many, our students desperately need us to bring balance into their lives.
Just like my young friends, I desperately need God to guard my mind and help us light the way in the midst of this darkness.
May God be with us, and our friends and family in Orlando, for we are all one.
Amen.