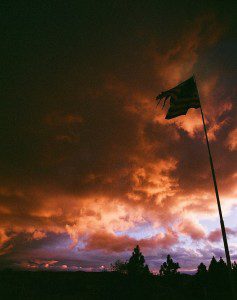 One summer years ago, my aunt and uncle gave my cousins, sister, and me the option of either camping on the beach, or going to the mountains. We chose the mountains and drove up to Pigeon Forge, Tennessee. I'd say we kids ranged in age from 10 to 13 years.
The seven of us made the drive up to Tennessee, and it didn't disappoint! From the lovely scenery, to the arcades, food, and putt putt, it was wonderful! We hadn't been to the mountains before, and this was a great first impression.
My uncle had rented a house for us to stay in that had all of the amenities, including a neighborhood pool. We spent a lot of time swimming and playing around.
When it was time for bed on the third (and last) night of our stay, we settled down. During the night, there was some loud banging on the front door. We, the kids, were all lying in the front room, closest to the door, frozen in fear. Who in the world was that? Eventually, the knocking (or banging, rather) stopped. When we got up in the morning to leave, there was a pile of human waste on the front stoop. It was clear that somebody didn't want us there. My uncle, who had slept through the ordeal, said, "Why didn't you wake me?"
Impression ruined. Forever.
A few weeks have gone by since Colin Kaepernick started his protest of the American flag during the playing of the National Anthem, and the crowd has literally gone wild. Almost everybody has an opinion, right?
Some of us say, "How dare he disrespect veterans by sitting (or most recently, kneeling)! So many folks died for the freedoms he has come to enjoy. Plus, he's rich! Did not the flag help to get him where he is today?"
But I would submit that there has been a lot of sketchy stuff that has gone on underneath the banner of that Ragged Old Flag: subjugation, thirst for power, and domination have all been observed under it. And if we are going to be a called people who proclaim the Gospel of Christ, who lift up the downtrodden, we'd do well to start by opening our hearts and ears to the least of these.
Are the hurting voices of the downtrodden creating division, or shining light on issues that need to be exposed? Should we continue to pledge allegiance to pain? To heartache? To being considered second-class? When I think about all of the folks that say, "Well, that protest is making me uncomfortable," I consider how uncomfortable and afraid I've been my whole life as a Black man in America.
In Robert P. Jones' The End of White Christian America, he details that White Protestant Christian America is on the decline, and very quickly, US demographics are changing. America is becoming more brown in complexion. This issue of race isn't going away. As youth leaders and ministers, we have to be prepared to meet this reality. We have to talk about this in ways that bring Christ into focus, without washing everything under the bridge by saying "We're all the same." Sure. We're all the same in theory and in (some) theology, but not in practice. If we want to talk about Christ, we should talk about Jesus Christ, the Palestinian Jew—tried by the state and killed as an innocent. Jesus Christ, whose Jewish body was broken without just cause. Jesus Christ, who was a minority in the powerful Roman Empire.
How many innocent bodies of color have we seen broken? Broken in heart, mind, and spirit—by the empire? And what shall we say about this? Shall we say, "Well. How disrespectful that he chooses to speak out! How dare he kneel! I'm offended." Or shall we say, "The same broken Jesus said, 'If someone wants to be my disciple, let them first deny themselves.' Deny their inclinations. Their preconceived notions. Their hardwired reactions. Then, let them 'take up their cross and follow me.'"
The way of the suffering Christ has been travelled many times by the least of these—those who have been "killed all the day long." Let's open our eyes to see Christ beyond idolatry of country, and maybe things can begin to change. We have a responsibility to youth who are being shaped through experiences to feel like they aren't good enough, and not just because of color. What about gender, sexuality, nationality, and a host of other stuff?
If we are unable to speak to issues that matter, there's already evidence that the church will continue to lose people because it is no longer relevant. I hope that you know, as I do, that Christ is always relevant.
So let's make sure that we do our part to introduce them to the very realness of Christ's body, which wasn't a member of the majority, but would have been like one more akin to the least of these. As we see this Christ lifted up, the promise comes true. Jesus said, "If I be lifted up from the earth, I'll draw all people unto me."
Best. Impression. Ever.