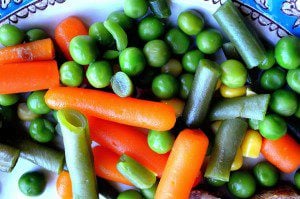 There's a lot of anxiety surrounding the question of young people and church. It would seem, these days, that the two aren't exactly like peas and carrots. In fact, one could easily conclude, upon brief observation of what happens in your typical mainline worship service and its attendance, that church just isn't for young people (or young people aren't for the church).
There are, of course, a whole lot of misconceptions floating around that would contribute to such a conclusion. For example, the assumption that young people are only drawn to the "contemporary" or the "upbeat" could lead someone to conclude that a traditional worship service just can't work for young people.
The truth is, young people—like pretty much all people—are not necessarily drawn to the contemporary any more than they are drawn to the traditional. What draws people is the meaningful. As my friend Blair Goold once put it, sometimes the most meaningful experience is neither the contemporary nor the traditional but the "ancient." What most people actually want, and what I imagine young people probably want too, is an experience that has real roots that stretch to the depth of reality. What people want, despite our apologies, is an encounter with God.
Among all the metrics out there that are being used to discern why young people aren't going to church and what we should do to get them there, the one metric we may be neglecting is the one that's right in front of our nose—worship. We've been assuming, at least in many of the conversations I've found myself in, that young people want something a bit outside our current scope. We think young people are bored with church because they wanna change the world, so we need to get ourselves out into the business sector, or start a really ground breaking mission initiative, or have extremely interactive social media strategies. None of these are bad ideas (though they are probably all bad ideas if the only reason we're doing them is to add youth to our numbers). But what if none of these ideas are addressing the real need of the people we say we're trying to reach?
I believe that any mission initiative, any entrepreneurial innovation, any social media technique will fall short if it is not fundamentally grounded in the human encounter with God in worship. If it's just about mission, why not join the Red Cross? If it's just about having a presence in society, why not just work for Starbucks? If it's just about digital engagement, why bother with church at all? What we need is worship and an experience of worship that goes deeper than ritual, deeper than the style of music accompanying our worship. We need encounter.
But have you noticed that we don't really expect youth or children to worship God in churches? By design, if children are going to get one thing at church, it's going to be education, not worship. Sometimes we even send them out of our worship services to go to "Sunday School" where they'll learn the books of the Bible and sing about Father Abraham. The first question our children's ministries are asking is, "are they learning about the Bible?" Worship comes second (if at all). And then there's this immediate shift once young people become adults. If adults are going to get one thing out of church, it's going to be worship…and we'll see if we can squeeze in some education somewhere during the week.
Essentially, we're expecting people to worship because of what they know, and to learn even though they've never really worshiped. We're asking people to get revelation without experience and experience without revelation. In the words of Jürgen Moltmann, we end up with "…revelations that cannot be experienced and experiences without revelation" (The Spirit of Life, p.7). You end up with young people who don't care and adults who don't know.
So is it really any wonder why young people leave churches once they're old enough to leave?
Perhaps we don't need to get so crazy with our innovative ideas about how to "do" church so young people will like it. Perhaps all we've got to do is abandon this false dichotomy of "education" vs. "worship" and the double standards we've placed on children and adults. Perhaps we should simply offer children and young people an opportunity to experience God in worship and abandon every interpretive obstacle we've placed in front of them. When we realize that young people and adults are hungry for the same thing, that all our hearts are restless until they find rest in God, then perhaps the church and young people will go together like peas and carrots again.