Today's post at Fr. Dwight Longenecker's blog treats the relation of Catholics with Muslims and Islam.
Fr. Longenecker writes:
…it is so difficult to separate out the religion of Islam from the political aspirations of ISIS and from the motivations and actions of the terrorists.

Clinton and Obama may wish to separate Islam from the actions of ISIS and the terrorists, but it is difficult to do so and be honest.

What is needed is for Muslims themselves to forswear violence, stress that "jihad" is no more than the spiritual and moral struggle and explicitly state that Sharia law is no more significant for the world's population than Canon Law is for Catholics, and that it is NOT the aim of the Islamic religion to conquer the world by jihad and impose Sharia law on all people.

If this is true, then Clinton and Obama had better use all their diplomatic muscle to get Muslim leaders worldwide to make such a declaration.

If the Muslim leaders–both political and religious–can't make such statements, then to be on the safe side we had better take Islam at face value and assume that Islam does teach what the Koran says, that violent jihad is expected of all Muslims and Sharia law is to be imposed globally.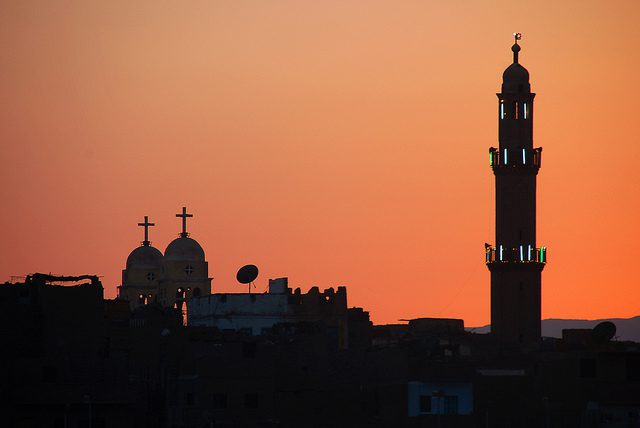 I am not sure that I can find these prescriptions in what the Church has been teaching us concerning our relation to Muslims and Islam. So far, this is what I've found – please help me find something that seems a bit more consistent with what Longenecker writes. My difficulty is that the Church seems to be teaching us to approach Muslims with respect, see them as brothers, and work with them for justice in the world – but I don't seem to be able to extract that from Longenecker saying, "to be on the safe side we had better take Islam at face value and assume that Islam does teach what the Koran says, that violent jihad is expected of all Muslims and Sharia law is to be imposed globally." Any help is appreciated! Without further delay, here's what I've found:
From the Second Vatican Council, Lumen Gentium 16, November 21, 1964:
But the plan of salvation also includes those who acknowledge the Creator, in the first place among whom are the Muslims: these profess to hold the faith of Abraham, and together with us they adore the one, merciful God, mankind's judge on the last day.
From the Second Vatican Council, Lumen Gentium 16, November 21, 1964:
The Catholic Church rejects nothing of what is true and holy in these religions. She has a high regard for the manner of life and conduct, the precepts and doctrines which, although differing in many ways from her own teaching, nevertheless often reflect a ray of that truth which enlightens all men. Yet she proclaims and is in duty bound to proclaim without fail, Christ who is 'the way, the truth and the life' (Jn 1:6). In him, in whom God reconciled all things to himself (cf. 2Co 5:18-19), men find the fullness of their religious life.

The Church, therefore, urges her sons to enter with prudence and charity into discussion and collaboration with members of other religions. Let Christians, while witnessing to their own faith and way of life, acknowledge, preserve and encourage the spiritual and moral truths found among non-Christians, also their social life and culture.

The Church has also a high regard for the Muslims. They worship God, who is one, living and subsistent, merciful and almighty, the Creator of heaven and earth (Cf. St. Gregory VII, Letter III, 21 to Anazir [Al-Nasir], King of Mauretania PL, 148.451A.), who has spoken to men. They strive to submit themselves without reserve to the hidden decrees of God, just as Abraham submitted himself to God's plan, to whose faith Muslims eagerly link their own. Although not acknowledging him as God, they venerate Jesus as a prophet, his Virgin Mother they also honor, and even at times devoutly invoke. Further, they await the day of judgment and the reward of God following the resurrection of the dead. For this reason they highly esteem an upright life and worship God, especially by way of prayer, alms-deeds and fasting.

Over the centuries many quarrels and dissensions have arisen between Christians and Muslims. The sacred Council now pleads with all to forget the past, and urges that a sincere effort be made to achieve mutual understanding; for the benefit of all men, let them together preserve and promote peace, liberty, social justice and moral values.

Therefore, the Church reproves, as foreign to the mind of Christ, any discrimination against people or any harassment of them on the basis of their race, color, condition in life or religion. Accordingly, following the footsteps of the holy Apostles Peter and Paul, the sacred Council earnestly begs the Christian faithful to 'conduct themselves well among the Gentiles' (1P 2:12) and if possible, as far as depends on them, to be at peace with all men (cf. Rm 12:18), and in that way to be true sons of the Father who is in heaven (cf. Mt 5:45).
Paul VI, address to the Islamic communities of Uganda, August 1, 1969:
In our prayers, we always remember the peoples of Africa. The common belief in the Almighty professed by millions calls down upon this continent the graces of his Providence and love, most of all, peace and unity among all its sons. We feel sure that as representatives of Islam, you join in our prayers to the Almighty, that he may grant all African believers the desire for pardon and reconciliation so often commended in the Gospels and in the Qur'an.

Our pilgrimage to these holy places is not for purposes of prestige or power. It is a humble and ardent prayer for peace, through the intercession of the glorious protectors of Africa, who gave up their lives for love and for their belief. In recall the Catholic and Anglican Martyrs, We gladly recall also those confessors of the Muslim faith who were the first to suffer death, in the year 1848, for refusing to transgress the precepts of their religion.
John Paul II, Message to the faithful of Islam at the end of the month of Ramadan, April 3, 1991:
To all Muslims throughout the world, I wish to express the readiness of the Catholic Church to work together with you and all the people of good will to aid the victims of the war and to build structures of a lasting peace not only in the Middle East, but everywhere. This cooperation in solidarity towards the most afflicted can form the concrete basis for a sincere, profound and constant dialogue between believing Catholics and believing Muslims, from which there can arise a strengthened mutual knowledge and trust, and the assurance that each one everywhere will be able to profess freely and authentically his or her own faith.

Injustice, oppression, aggression, greed, failure to forgive, desire for revenge, and unwillingness to enter into dialogue and negotiate: these are merely some of the factors which lead people to depart from the way in which God desires us to live on this planet. We must all learn to recognize these elements in our own lives and societies, and find ways to overcome them. Only when individuals and groups undertake this education for peace can we build a fraternal and united world, freed from war and violence.

I close my greeting to you with the words of one of my predecessors, Pope Gregory VII who in 1076 wrote to Al-Nasir, the Muslim Ruler of Bijaya, present day Algeria: 'Almighty God, who wishes that all should be saved and none lost, approves nothing in so much as that after loving Him one should love his fellow man, and that one should not do to others, what one does not want done to oneself. You and we owe this charity to ourselves especially because we believe in and confess one God, admittedly, in a different way, and daily praise and venerate him, the creator of the world and ruler of this world.'

These words, written almost a thousand years ago, express my feelings to you today as you celebrate 'Id al-Fitr, the Feast of the Breaking of the Fast. May the Most High God fill us with all His merciful love and peace.
Benedict XVI, Post-Synodal Apostolic Exhortation Africae Munus on the Church in Africa in service to Reconciliation, Justice, and Peace, November 19, 2011 (from par. 94):
I call upon the Church, in every situation, to persist in esteem for Muslims, who "worship God who is one, living and subsistent; merciful and almighty, the creator of heaven and earth, who has also spoken to humanity.". . . If all of us who believe in God desire to promote reconciliation, justice and peace, we must work together to banish every form of discrimination, intolerance and religious fundamentalism. In her social apostolate, the Church does not make religious distinctions. She comes to the help of those in need, be they Christian, Muslim or animist. In this way she bears witness to the love of God, creator of all, and she invites the followers of other religions to demonstrate respect and to practise reciprocity in a spirit of esteem. I ask the whole Church, through patient dialogue with Muslims, to seek juridical and practical recognition of religious freedom, so that every citizen in Africa may enjoy not only the right to choose his religion freely. . . and to engage in worship, but also the right to freedom of conscience.. . . Religious freedom is the road to peace.
Benedict XVI, Meeting with Representatives of Some Muslim Communities, Cologne, August 20, 2005:
It is in this spirit that I turn to you, dear and esteemed Muslim friends, to share my hopes with you and to let you know of my concerns at these particularly difficult times in our history.

I am certain that I echo your own thoughts when I bring up one of our concerns as we notice the spread of terrorism. I know that many of you have firmly rejected, also publicly, in particular any connection between your faith and terrorism and have condemned it. I am grateful to you for this, for it contributes to the climate of trust that we need.

Terrorist activity is continually recurring in various parts of the world, plunging people into grief and despair. Those who instigate and plan these attacks evidently wish to poison our relations and destroy trust, making use of all means, including religion, to oppose every attempt to build a peaceful and serene life together.

Thanks be to God, we agree on the fact that terrorism of any kind is a perverse and cruel choice which shows contempt for the sacred right to life and undermines the very foundations of all civil coexistence.

If together we can succeed in eliminating from hearts any trace of rancour, in resisting every form of intolerance and in opposing every manifestation of violence, we will turn back the wave of cruel fanaticism that endangers the lives of so many people and hinders progress towards world peace.
Francis, Message to Muslims throughout the world for the end of Ramadan, July 10, 2013:
What we are called to respect in each person is first of all his life, his physical integrity, his dignity and the rights deriving from that dignity, his reputation, his property, his ethnic and cultural identity, his ideas and his political choices. We are therefore called to think, speak and write respectfully of the other, not only in his presence, but always and everywhere, avoiding unfair criticism or defamation. Families, schools, religious teaching and all forms of media have a role to play in achieving this goal.

Turning to mutual respect in interreligious relations, especially between Christians and Muslims, we are called to respect the religion of the other, its teachings, its symbols, its values. Particular respect is due to religious leaders and to places of worship. How painful are attacks on one or other of these!

It is clear that, when we show respect for the religion of our neighbours or when we offer them our good wishes on the occasion of a religious celebration, we simply seek to share their joy, without making reference to the content of their religious convictions.
Francis, Responding to questions from members of the media, November 30, 2014:
It's true that there has been a reaction to these acts of terrorism, not just in this region but in Africa as well: "If this is Islam, it makes me angry!". So many Muslims feel offended, they say: "But that is not what we are. The Quran is a prophetic book of peace. This is not Islam". I can understand this. And I sincerely believe that we cannot say all Muslims are terrorists, just as we cannot say that all Christians are fundamentalists – we also have fundamentalists among us, all religions have these small groups.
With this we end our post – hoping we have provided some teaching that the Church has offered on how we are to respect and work together with Muslims. We shouldn't be paranoid, it seems, and even Benedict admitted that Muslim leaders denounced any connection between Islam and terrorism (as noted above). Until we can find resources that support Fr. Longenecker's writing, we'll have to be safe and look elsewhere for Catholic teaching on these – and perhaps – other matters. Of course, I am just being cautious, I know Longenecker will show us how I've missed something.
To our Muslim friends and all who speak Arabic, I offer the words of Pope Saint John Paul II as he arrived in Sudan (1993):
As–salamu 'aleykom! (Peace be upon you.)
Until next time,
If you have found the content on Keith Michael Estrada's "Proper Nomenclature" to be useful, kindly consider supporting the cause with a donation.
Use the button below to donate through PayPal:

Thank you!