The intellectual foundations of Catholic Worker Co-founder, Servant of God Dorothy Day (1897-1980), on extreme poverty and anarchism drew heavily from the work of the Russian anarchist, geographer, zoologist, and philosopher, Peter Kropotkin (1842-1921).
Kropotkin sought to refute the position of social darwinists who would place individual competition and struggle for survival at the center of their evolutionary theory. Instead, Kropotkin would argue, mutual aid, not just among members of one species, but among various species, was preferred in order to secure the survival of creatures.
Mutual aid, to this day, comes natural to us -and not in the sense of the capitalist who would insist that by each pursuing what is in their self-interest everyone advances- and to not seek to serve the other -indeed, to ignore, exclude, discard the other- would have to be something that is learned.
Kropotkin would decry the idea of caring for another in need as optional -even if divinely commanded- charity; instead, "every savage," he would write, "considers mutual aid as due to his kinsman."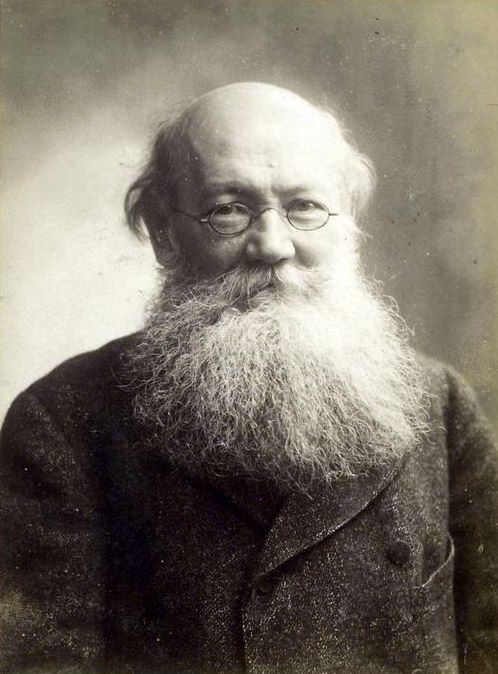 Continuing this thought, Kropotkin describes the living habit of mutual aid found among the poor. What follows comes from a paragraph in Kropotkin's Mutual Aid: A Factor in Evolution (1914, page 235):
Then comes the alliance of the mothers. 'You could not imagine' (a lady-doctor who lives in a poor neighborhood told me lately) 'how much they help each other. If a woman has prepared nothing, or could prepare nothing, for the baby which she expected-and how often that happens!-all the neighbours bring something for the new-comer. One of the neighbours always takes care of the children, and some other always drops in to take care of the household, so long as the mother is in bed.' This habit is general. It is mentioned by all those who have lived among the poor. In a thousand small ways the mothers support each other and bestow their care upon children that are not their own. Some training-good or bad, let them decide it for themselves-is required in a lady of the richer classes to render her able to pass by a shivering and hungry child in the street without noticing it. But the mothers of the poorer classes have not that training. They cannot stand the sight of hungry child; they must​ feet it, and so they do.
Let's begin to investigate what else inspired our Catholic Worker movement.
Until next time,
If you have found the content on Keith Michael Estrada's "Proper Nomenclature" to be useful, kindly consider supporting the cause with a donation.
Use the button below to donate through PayPal:

Thank you!