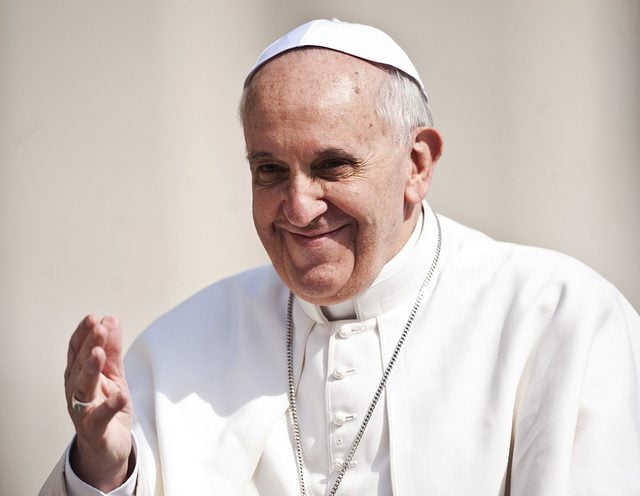 En sus reflexiones sobre el reunion entre Juan Pablo II y Fidel Castro (Dialogos entre Juan Pablo II y Fidel Castro, Editorial Ciudad Argentina, 1998) Jorge Bergoglio (ahorra Papa Francisco) nos ofrece unas palabras contra el capitalismo. En varios grupos encontramos algunas que rechazan a nuestro Santo Padre Francisco, diciendo que no tiene la experiencia necesario para criticar la sistema capitalista. Debemos entender que la critica de la iglesia contra el capitalismo preexiste cada persona que vive hoy.
Entonces, con Bergoglio (Francisco), empezamos:
"Por ello, es necesario interpretar la actitud de la Iglesia en cuanto al liberalismo económico o capitalismo. Esta Doctrina ha condenado en en reiteradas oportunidades al capitalismo liberal… Lo que censura la Iglesia es el espíritu que ha animado al capitalismo, utilizando al capital para someter y oprimir al hombre, sin contemplar la dignidad humana de los trabajadores ni la función social de la economía, distorsionando los valores éticos de la justicia social y del bien común."
Sigue Bergoglio,
"Ahora bien, la critica a los principios que guían la economía liberal y que por ende orientan la practica del capitalismo, su puede explicar al hilo de que la vida económica se desarrolla con características de individualidad, en la que los hombres buscan su propio bien y no el bien común, para satisfacer sus intereses personales. Entonces, pues, podemos señalar que los principios fundamentales del sistema capitalista se sustentan en la libra concurrencia y en la libertad de mercado. Sin lugar a dudas, estos principios anidan en el hombre emancipado, en el individuo utilitario, posibilitando el accionar de una economía que no reconoce a la sociedad en su conjunto."
Es verdad, Bergoglio no es el único en la tradición católica que se encuentra insatisfecho con el capitalismo. Considera estos católicos.
Paz,
If you have found the content on Keith Michael Estrada's "Proper Nomenclature" to be useful, kindly consider supporting the cause with a donation.
Use the button below to donate through PayPal:

Thank you!