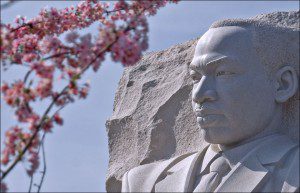 You may not publicly share or recite Dr. King's speech without, in most cases, paying a hefty fee.
Philly.com's Ronnie Polaneczky shared how her own dream was frustrated. She dreamt of having youth and city leaders recite the speech in memory of the slain champion for equality, to be followed by a lifestream of the speech on philly.com for the benefit of all.
"But no one," she writes, "at the Atlanta-based Martin Luther King Jr. Center responded to my calls and emails asking for their blessing of such an event. Yes, if you want to recite King's words in public, you need permission from the King Center – i.e., his heirs – to do so. Then, in most cases, you must pay them for the honor."
Kieran Corcoran reminded us last year that
When the Martin Luther King, Jr. National Memorial Project Foundation was fundraising to install a statue in King's honor in Washington, D.C.'s National Mall, they were charged a total of more than $800,000 to inscribe some of his writings into the marble.
If you have a pretty penny to pay for the "rights" to Dr. King's words and image, you might be able to use them to reinforce attitudes contrary to his life's work.
Lauren Williams reported in 2013 that
Critics, including civil rights icon Julian Bond, bristle over the fact that "I Have a Dream" is kept under strict watch in the name of controlling King's image at the same time it's licensed by rich companies for use in TV commercials, including a 2010 Mercedes-Benz spot, an Alcatel ad, and a particularly galling 2001 Cingular Wireless campaign that also included quotes from Kermit the Frog and Homer Simpson.
Despite the copyright stronghold, there have been several attempts to encourage the viewing and sharing of King's work. The non-profit "Fight for the Future" posted King's "I have a Dream" in 2013. Williams continues, "Fight for the Future" uploaded
the full video of the "I Have a Dream" speech on Vimeo and encouraged people to share it. Evan Greer, a campaign manager for the organization, says, "As an organizer, it was important to find a way to connect these issues and the fact that Dr. King's speech is copyrighted and has been frequently removed from YouTube and has been kept out of civil rights documentaries, and in a number of ways, has been kept from reaching its full reach online and in the world because of copyright. It seemed like a great place for us to make a comment on that."
So will the spread and influence of Dr. King's dream remain limited in scope for the sake of copyright at unimaginable costs for much longer? It's difficult to say. In areas under Fair Use jurisdiction, you may be able to operate within the given limits. Otherwise, most uses will have to wait until 2038, 70 years after Dr. King's death.
For permission and inquiries on the use of King's work contact
Estate of Dr. Martin Luther King, Jr
Intellectual Properties Management
One Freedom Plaza
449 Auburn Avenue NE
Atlanta, GA 30312
Fax: 404-526-8969
Or legally buy the speech and performance on DVD through Amazon for about $9 (The King Center Bookstore sells it for $20) or get the illustrated book and cd combo pack with the full speech!
My Editors may be upset if I embedded a youtube video of Dr. King's "I have a dream" into this post, or even link to it; but you can easily find the text, audio, and video in full throughout the internet.
Some recommend that you participate in a simple act of civil disobedience by finding the video and sharing it, uploading it wherever you can to make sure it reaches all people.
Is this legal restriction just? Is there hypocrisy , not in securing some compensation for the use of your Father's work, but in seeking hundreds of thousands, if not millions, of dollars for granting permission to do so? Is there hypocrisy in seeking such large sums from corporations who relish and thrive as a result of the practical materialism* (atheism) of capitalism, forcefully condemned by Dr. King?
Where there is injustice, tolerance, for a time, may be an option – otherwise, disobedience may be called for.
Share Dr. King's Dream with your friends and family today!
Peace,
*"Practical materialism" is used by King to describe what may follow from capitalism. We've submitted that practical materialism is necessitated by the practice of capitalism, as we noted when discussing Saint JP II and "If you want priestly vocations, reject capitalism", when we quoted Blessed Oscar Romero on capitalism, and when we cited L'Osservatore Romano on our post concerning the Servant of God Dorothy Day on capitalism.