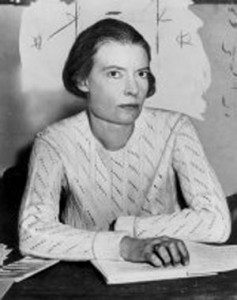 The Servant of God Dorothy Day embraced distributism.
The Servant of God Dorothy Day embraced socialism.
The Servant of God Dorothy Day embraced anarchism.
Over the weekend, let's consider how every statement above is true. So I'll just drop a few lines to encourage your thought these next few days.
I'll help with the following:
Day recommended and identified with distributism as proposed by Chesterton and Belloc.
Day saw the work of Peter Kropotkin on anarchism and economic social organization as "much the same" as what the English Distributists supported. She considered Distributism to be the English form of anarchism. She identified with and used anarchism as Proudhon used it, and was inspired by Tolstoi's anarchism. Nevertheless, she did see that many misunderstood the term in the way she, Kropotkin, and Proudhon used it.
Lastly, anarchism as Proudhon and Kropotkin used it was a type of socialism. We can consider Henri de Lubac's "The Un-Marxian Socialist" on Proudhon in addition to Kropotkin's definition of anarchism as "the no-government system of socialism" where we find the rejection of the modern state and capitalism. Day's difficulty with socialism was limited to the socialism Catholics have always rejected: Marxian, Atheistic, Totalitarian. (See here for more.)
Enjoy your weekend, you socialist, distributist, anarchist anti-capitalist Catholic*, you!
Sincerely,
*The anti capitalist should be implied by "Catholic" but is used here for those who are unfamiliar with this.