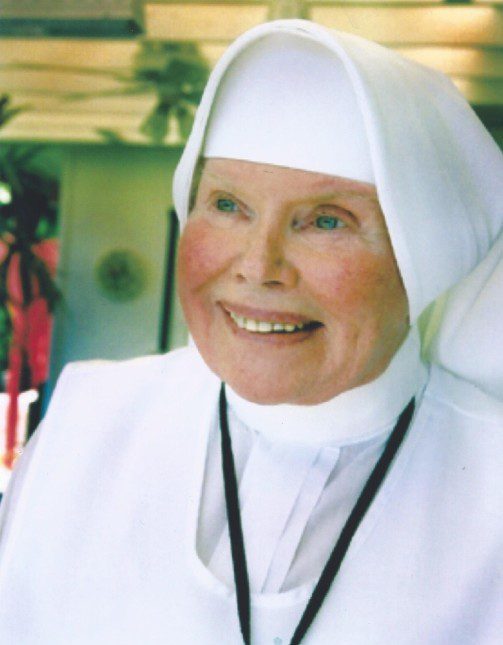 She lived comfortably, raised beautiful children, and suffered divorce twice; she would then dedicate thirty-two years of her life living with and ministering to some of Tijuana's most unwanted, perhaps hated peoples. She would also establish an order for mature ladies dedicated to serving God's needy children with unqualified compassion: the Eudist Servants of the Eleventh Hour.
Madre Antonia Brenner, known as "la Mama" to guards and the imprisoned alike, brought our Lord to one of America's darkest 'neighborhoods' – she died three years ago, today.
The La Mesa penitentiary is known as "El Pueblito" but is not your typical neighborhood. Men and women imprisoned for drugs, violence, murder, and more – men and women rejected by the world, but not by their Mother.
The works of mercy were her life, and everyone recognized this to be the case. Violence, drugs, and abuse followed many into el pueblito, but mercy was also present; in her 10'x10′ cell, ready for roll-call each morning, Madre Antonia was there to serve, embrace, and love. She would come to be known as "the Prison Angel".
In addition to hearing her speak at a youth conference, I had the pleasure of meeting her in December of 2009.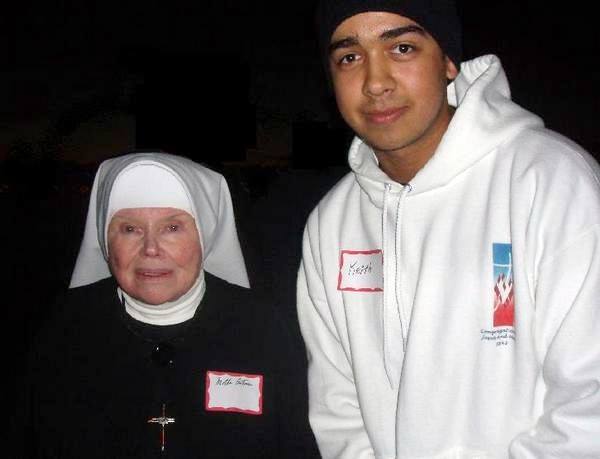 Madre Antonia was a fervent servant of our Lord in the spirit of Saint John Eudes – embodying the compassion our Savior wished to offer upon every encounter with every person.
In a 2011 e-mail she sent to some of her co-workers in the vineyard, she wrote in part:
My heartfelt greetings, love and prayers are extended to you.

These words are to appeal to you to join forces through the prayer of the most holy rosary, to stop human trafficking. It is overwhelming to think of the horror! We do not have to go to far distant countries or places, as it is in our own backyard. The world is our neighbor.

Jesus said, "Woe to him (or her) that scandalizes one of these, my little ones; better for him (or her) to tie a millstone around their neck and drop themselves into the sea."

We pray as we should to end abortion, the death penalty, all violence and war, and the violence of human trafficking.

Jesus gave His own Mother to us and to those poor victims of prostitution and pornography, whoever and wherever they are. And Saint John Eudes brought into the world the congregation of the Sisters of Our Lady of Charity that for centuries have strived to rescue our lost and broken sisters from the despicable vices laid upon them. It is the Cross of Christ that is our hope – let us, through prayer, help them to carry a weight so heavy and ugly, that it is beyond human understanding.

In my many years in prison, I have come to realize that probably more than 90% of men and women, alike, were sexually abused (amongst other abuses) as children.
There are no prostitutes – I remember her saying once – there are persons suffering from prostitution. Madre Antonia was always about meeting and seeing the face of persons.
Her life is inspiring, and there is quite a bit of material published about Madre Antonia.
Their was a documentary made about her that I don't think is easy to find online – but there is a book you can find about her life called "The Prison Angel: Mother Antonia's Journey from Beverly Hills to a Life of Service in a Mexican Jail" (2006).
A Los Angeles Times article on the conditions of La Mesa penitentiary can be found here.
Reporting on her death in 2013, the Los Angeles Times said:
"She was born Mary Clarke in Los Angeles on Dec. 1, 1926, to Irish immigrant parents. Her father grew wealthy running an office supply business, and the family counted Hollywood stars such as Cary Grant among their neighbors. She married and raised four daughters and three sons, all the while becoming deeply involved in charity work.

"In 1977, after her children were grown and two marriages had ended in divorce — a source of sadness that she rarely talked about — Brenner gave away her expensive clothes and belongings, left her Ventura apartment and moved to La Mesa penitentiary. She had delivered donations in the past to the prison, each visit filling her with compassion.

" 'Something happened to me when I saw men behind bars. … When I left, I thought a lot about the men. When it was cold, I wondered if the men were warm; when it was raining, if they had shelter,' Brenner told the Times in a 1982 interview. 'I wondered if they had medicine and how their families were doing. …You know, when I returned to the prison to live, I felt as if I'd come home.'

"Small of stature, with blue eyes peeking out from under her traditional black–and-white habit, Brenner cut a strikingly serene presence in the overcrowded prison of 8,000. She lived as any other inmate, sleeping in a 10-by-10-foot cell, eating the same food and lining up for morning roll call.

"She would walk freely among thieves and drug traffickers and murderers, smiling, touching cheeks and offering prayers. Many were violent men with desperate needs. She kept extra toilet paper in her cell, arranged for medical treatment, attended funerals.

"Guards and inmates alike started referring to her as the prison angel. In the cellblocks she was known simply as "Mama." "There isn't anyone who hasn't heard my lecture on victims," she said in a 2002 Times story. "They have to accept that they're wrong. They have to see the consequences. They have to feel the agony. … But I do love them dearly."

"When prayers didn't work, she took matters into her own hands. On more than a few occasions she broke up fights and quelled brewing riots."
The San Diego Tribune noted:
"With her small frame, sunny disposition, and heavily accented Spanish, she delved fearlessly into a world riddled with poverty and violence, once quelling a riot by walking into the darkened penitentiary taken over by armed and angry inmates.

"She urged guards to respect the petty thieves, rapists, murderers and drug traffickers in their custody, speaking out against beatings and torture of inmates. But she also reached out to those in law enforcement, raising funds for the families of those killed in the line of duty.

" 'I think prison freed me,' she once said in an interview."
After passing, the Archbishop of Tijuana, the Most Reverend Rafael Romo Muñoz, quoted in a 2013 article entitled "Madre Antonia dies; could be beatified," said: "On human terms, we're dealing with an irreparable loss, but from the point of view of her mission, I believe we have a great gain. She is a woman with the attributes of a saint, I say this because I knew her and loved her very much, I also care for her greatly…".
Here's Madre speaking beautifully on service and total dependence on God:
Here's a Spanish news report on Madre. For those who don't understand the language, one beautiful line Madre says is: "I could not find one man in 32 plus years [in the penitentiary] of whom I could say, 'He is lost, there is no hope for him.'" All of these, Madre would say, are her sons. There is always hope, she says in the report:
Perhaps we'll share some more about Madre Antonia and others in the Eudist tradition soon.
Larry Peterson has a beautiful summary of her life of determination and strength published here, and you can learn more about Madre Antonia via the Eudist Servants of the Eleventh Hour.
Blessings to all Eudists,
Keith Michael Estrada