To join the conversation about The Thorny Grace of It or to order a copy, go here.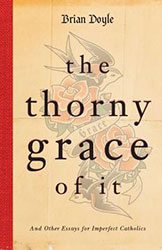 "You've gotta have a horse to ride." That's a saying from politics, meaning you have to have a candidate who can run the race and win. It comes from horse racing, where the meaning is obvious: Horse races are won astride strong, fast horses.
You've gotta have a horse to ride.
That is equally true with books, blogs, essays, poetry and such. In this case, the "horse" you must ride is the writer's ability to string words together in a compelling fashion.
By that criteria, The Thorny Grace of It has a fine horse to ride. Brian Doyle, the author of this book, can write. His book, which is an anthology of essays he's published previously in various magazines, hangs together on the power of his writing.
There is no single issue or idea in this book. It is not a book of argumentation. There is nothing didactic or issue-oriented about it.
It is, rather, a series of reflections on living life Catholic that are given to us in lyrical prose that can, at times, almost cross over into poetry. As such, the book moves your emotions first, long before it touches your mind. The essays, which range from a beautiful thought poem about a handmade rosary, to a hilarious description of an older brother tutoring his much younger brother (the author) in how to approach his first confession, are glimpses through a window into another person's life of faith, family and love.
The author comes from a large Catholic family and has lived his life as a Catholic. His essays reflect that cradle Catholic, generational Catholic reality. The book talks about life as a Catholic schoolboy and life as a mature man who faces the loss of a brother to cancer. Much of the book is centered on the mass in a highly personal first-person stream-of-conciousness narrative of experiencing the mass from the pew at the back of the room.
Mr Doyle's power of description paints word pictures that translate into visual pictures in your mind as you read through these essays. You "see" the light coming through sanctuary windows that land as bars of butter on the church floor. You feel the lesson of the waspy priest who hides his blindness, and you experience the poignance of taking a drive with a dying brother.
I wish I could write like Mr Doyle.
But I can't.
What I can do is tell you that if you love beautiful writing about living life Catholic, then this small book of essays is for you.