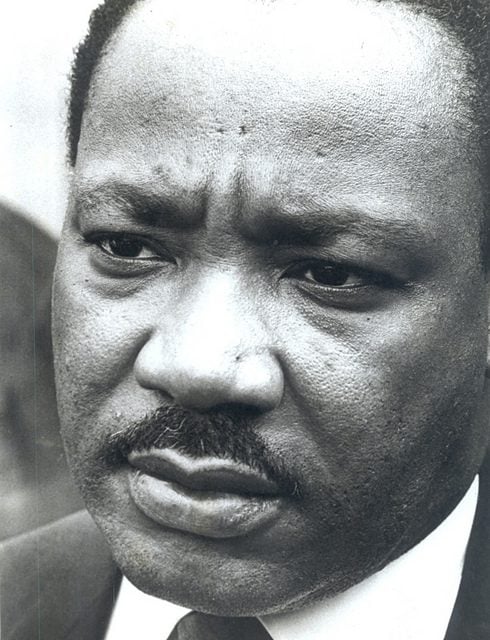 Note: I've been told the links below to Mrs King's letter don't work. Since it's a 10-page letter, I can't reproduce it here. Instead go here and click through to it. It's a historic document, and considering that it is talking about the man who is charged with enforcing our laws, a disturbing one. You should read it.
Yesterday, Senator Elizabeth Warren attempted to read a letter written by the widow of Martin Luther King, Jr concerning the 1986 nomination of Jeff Sessions for a federal judgeship.
This same Jeff Sessions, who is now United States Senator Jeff Sessions, has been nominated by President Trump for the position of Attorney General of the United States, which is the chief law enforcement position in America. It is customary for the United States Senate to be a deliberative body in which senators, who are duly elected by the people of their respective states to be their voice in government, are given the freedom to debate without limitation.
However, the act of reading this letter, which is, among other things, a historic document, so offended the senators that they voted to bar Senator Warren from speaking on the floor of the Senate during the debate on the vote to confirm Senator Sessions as our Attorney General. I was curious as to what Mrs King might have said about our prospective attorney general to cause this outlandish behavior on the part of the Senate.
I feel that this vote is an attempt to silence, not just an individual senator, which is reprehensible enough, but is a vote to silence an idea. The idea in question is whether or not justice can prevail if we ignore the character of the people we put in power. The vote itself raises another question which is whether or not we can truly have government of the people if one of the people's representatives can be summarily silenced for expressing ideas that at least some of their colleagues do not want to hear.
Senator Warren then read the letter on her Facebook page. Here, for those of you who are interested, is the cover letter Mrs Coretta Scott King wrote for her statement concerning the man who is the prospective Attorney General of the United States. You can read the full, 10-page statement — which is damning — here.
THE MARTIN LUTHER KING, JR. CENTER


449 Auburn Avenue. NE. Attents. Georgia 30312 (404) 524-1956

March 19, 1986

The Honorable Strom Thurmond, Chairman
Committee on the Judiciary

United States Senate

Dirksen Senate Office Building

Washington, D.C. 20510

Re: Nomination of Jefferson B. Sessions
U.S. Judge, southern/District of
Alabama Hearing, March 13, 1986

Dear Senator Thurmond:

I write to express my sincere opposition to the
confirmation of Jefferson B. Sessions as a federal district
court judge for the Southern District of Alabama. my
professional and personal roots in Alabama are deep and lasting.
Anyone who has used the power of his office as United States
Attorney to intimidate and chill the free exercise of the
ballot by citizens should not be elevated to our courts.

Mr. Sessions has used the awesome powers of his office in a
shabby attempt to intimidate and frighten elderly black voters.
For this reprehensible conduct, he should not be rewarded

with a federal judgeship.

I regret that a long?standing commitment prevents me from
appearing in person to testify against this nominee. However,



    


I have attached a copy of my statement opposing Mr. Sessions'
confirmation and I request that my statement as well as this
letter be made a part of the?hearing record.

I do sincerely urge you to oppose the confirmation of
Mr. Sessions.

Sincerely, 

Coretta Scott King


cc: The Honorable Joseph R. Biden, Jr.
United States Senate
308 Senate Hart Building
Washington, D.C. 20510