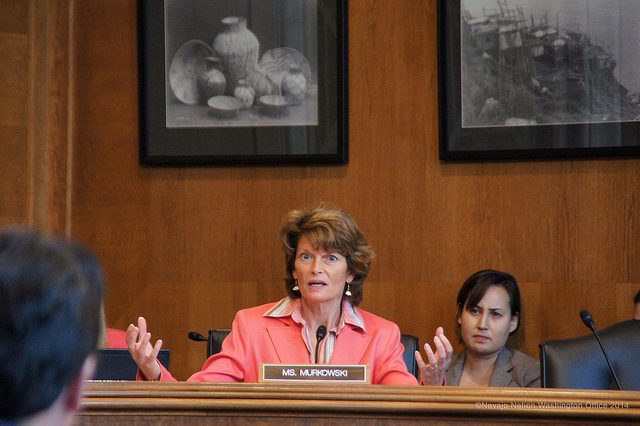 Republican Senator Lisa Murkowski has announced that she does not think that Judge Kavanaugh is "the right man for the court at this time."
My reaction to that is duhhhh. If this man is confirmed, a lot of women, including me, will be left feeling disenfranchised, outraged and in the mood to do something about it.
However, the loss of Senator Murkowski's vote does not mean Judge Kavanaugh won't be confirmed. Judge Gorsuch was confirmed, despite the fact that two Republicans voted against him, because two of those mean ole' terrible pro life Democrats jumped over the fence and voted for him. If Senators Manchin and Donnelly do the same thing again, then Judge Kavanaugh will be confirmed, even if both Senators Murkowski and Collins vote against his confirmation.
Those two pro life Democrats are also a guarantee that the pro life cause is most decidedly NOT hanging on whether or not Judge Kavanaugh is confirmed. Pro life people have been subjected to ruthless moral blackmail these past few weeks. We've been told that if we don't override our basic decency and the Christian morals and respect for the sanctity of human life that make us pro life in the first place and go out and support this man, no matter what he is or what he's done, then we are abandoning the babies.
That is not true, and it never has been. If Judge Kavanaugh is not confirmed, all that will happen is that President Trump will nominate someone else. Hopefully, that someone else will be a person who is out-front about being pro life, so we don't have to wait and see if he'll really overturn Roe.
If and when that should ever happen, we've got the votes. Some of those votes will come from the Ds, but we've got them. The pro choice Republicans will jump ship, true enough. But we have two proven pro life votes on the Democratic side.
It would be necessary to nominate someone who wasn't a raving lunatic right winger, and who also isn't a sexual predator. Otherwise, we might lose those votes. But that's good. It is what we need as a nation.
We need to ashcan all these extremists on both sides of the culture war and put some flaming moderates in positions of public trust. We do not need a yelling screaming partisan, as Judge Kavanaugh showed himself to be, or a sexual predator, as the charges against him indicate.
I do not want the man that Dr Christine Ford described to end up on the United States Supreme Court. I also do not want to see the Pro life movement and the Christian witness in this country go down the moral tubes supporting sexual predators, child molesters, attempted rapists and sexual assaulters for high office.
I am not a conservative. Not one bit. Never wanted to be. I am also, as any liberal will tell you, not a liberal.
I am, as I have said many times, a Jesus-loving, pro-life, pro-woman, anti-death-penalty, anti-gun-control, Oklahoma feminist. I oppose violence against women with every cell in my body. I oppose rape, sexual assault and child molesting without exception, no matter who does it.
I also oppose abortion, not because it's bad policy, or will stop loose women from sleeping around or for whatever nutso reason some of the sexual predator-supporting pro life people I've encountered these past two years seem to have. I oppose abortion because it kills a living child.
I will not choose between the two, and I will not be subjected to manipulation and moral blackmail about it. I'm not going to play maso to anybody's sado.
I got a little bit off track with that last part, but I'm feeling like it needs to be said.
In the meantime, Senator Murkowski appears to have made the choice to vote against the Kavanaugh confirmation. That does not mean he won't be confirmed. I hope that it ends up that Judge Kavanaugh is not confirmed, and we get a Supreme Court nominee who is openly and obviously pro life and pro woman. The Senate leadership can put a confirmation vote through the uprights pretty quickly if they'll just stop playing stupid power games.
They should let the Ds have access to the research they request and they should do it fast and without the dishonest arguments that burned time off the clock these past few weeks. Those senators speak for hundreds of millions of people. Access to that information is their right and part of their job.
If the Rs don't do that, they really will stretch this process past the election. I don't necessarily expect the Ds to sweep the Senate. But this is a dicey election. The Senate leadership has handled this confirmation about as poorly as they possibly could. They've got the House, the Senate and the presidency, and they still can't function. I am beginning to seriously question their competence.
In truth, they should have refused to move the nomination and told the president to re-up when the sexual assault charges broke. After the prez got through yipping and yapping and showing the world his crazy, he would have figured out that he was dealing with a whole other branch of government and that he didn't have any choice.
If they had done that, we could be well on our way to another pro life vote on the Supreme Court that we can actually trust. Instead, they've poured gasoline on the divisions wracking this country and fed the pro choice advocates and anti-Christian activists enough raw meat to nourish them for years.
Senator Murkowski has just, as my Daddy used to say, thrown a wrench into the works. We'll have to watch and see how it all turns out.
UPDATE: Both Senators Susan Collins and Jeff Flake have announced that they will vote to confirm Judge Kavanaugh to the United States Supreme Court. Democratic Senator Joe Manchin also says that he will vote to confirm. He voted to advance the vote earlier today. If they all three vote follow through with votes for confirmation, that would give enough votes to confirm. If two of them peel off — which is highly unlikely — the Vice President would then be called on to make a tie-breaking vote.
I am assuming, based on this, that the confirmation is in the bag.