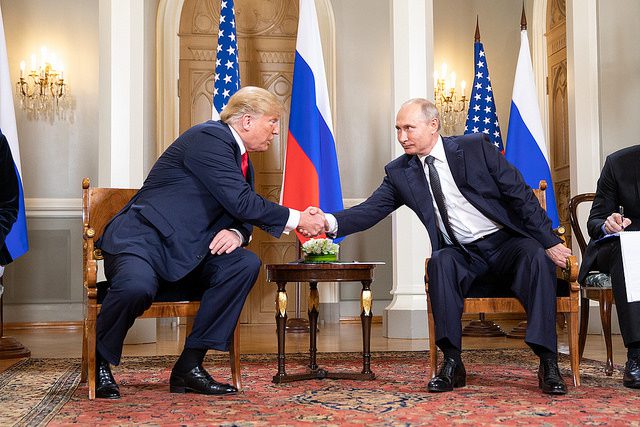 President Trump's political situation has led him to do a complete turn on the issue of abortion. He has gone from a man who favored partial birth abortion to one who spoke to the March for Life in poetic terms.
If he were a normal person, that would signal a full-on conversion. If he occupied most jobs, it wouldn't matter if he was lying. But, he is not a normal person and he does not occupy a normal office.
I used the term "psychopath" to describe him a few days ago. When I did that, I was actually speaking out of turn. I am not a psychiatrist or health care professional. I am not qualified to diagnose anyone.
However, I have been around people who have no conscience, no morals and whose only concern is themselves. I've known gang members who killed people. I've sat in discussions with powerful men who could cut your heart out without an anesthetic and expect your next of kin to apologize and buy them a new shirt because your loved one's blood splashed on their old one.
I think President Trump is one of those bad people. If he's not a psychopath, then whatever he is will do until the real psychopath gets here.
I'll go through why I think this in detail in the coming weeks, but for now let me just say that I am convinced that he betrayed this country to a hostile foreign power in order to get elected in 2016.
I am further convinced that he has weakened America and the entire Western world by his actions since he took office. The beneficiary of all this is the same hostile power who interfered in our election in 2016 to get Trump elected.
I believe that Trump is a traitor to the USA. I think he's a quisling. I have no doubt that he's a con man and a liar. His corrupt practices and crooked business dealings are legendary. He should have gone to jail for the fraud of Trump University instead of paying a $25,000,000 settlement.
He's a racist, misogynist bully and serial sexual predator who treats women like meat and repeatedly sponsors other sexual predators for high positions. He is cruel and amoral.
So what do I think of his new pro life position? I think it's what he needs to do in order to secure his base so that he can win the upcoming election. If the situation was different and he needed to do it to win, I think President Trump would perform abortions in the Oval Office with his own hands tonight.
Pro life/pro choice/sell out America/talk patriotism: It's all the same to him.
His only loyalty is to Trump. That is his true compass, his morality, his faith, his creed and his god.
I've seen a few comments saying that he will not stick with his new pro life position. I disagree. I think he will stick with it and milk it for all it's worth as long as it benefits him to do so. If the time ever comes when it costs him to be pro life, he'll switch just like he did before.
In the meantime, America is being destroyed. Far from making America great again, we are being set up for a world in which Russia and China are the dominate powers and America is a sniveling used-to-be that does their bidding. The alliances which allowed the West to stand up to Communism and which helped us save ourselves from cataclysm in the economic meltdown of 2008 are being torn apart.
This is what Putin wants. It is why he helped elect Trump in the first place. It is why he's going to help him again in 2020.
If Trump's not a psychopath, whatever he is will do until the real psychopath gets here.
Note: The phrasing I used: If Trump's not a psychopath, whatever he is will do until the real psychopath gets here, is a play on a quote from the movie No Country for Old Men. The original line was, It's a mess, ain't it sheriff? If it aint, it'll do until the mess gets here.