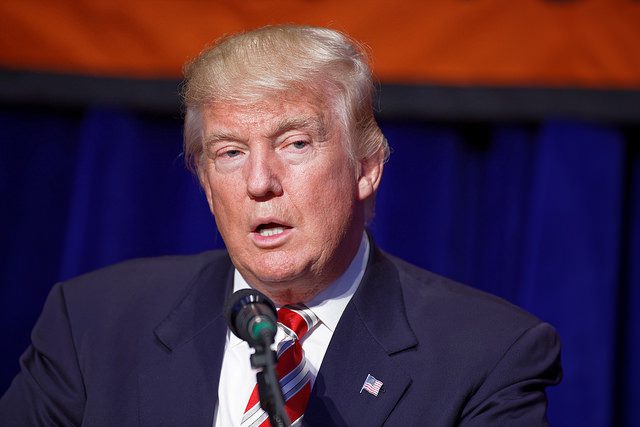 If you need more evidence that the President of the United States is a traitor and a quisling, it looks like you're going to get it.
Julian Assange's own attorney told a court in London today that candidate Donald Trump offered assurances of a Presidential pardon if Assange would help cover up the fact that the Russians were behind the hacks of the Democratic Party. These hacks resulted in leaks, which were released by Assange, that played a huge part in Trump's win in the 2016 election.
The take-away from this is obvious for those who will allow themselves to see it.
One, the Russians were working to get their boy Trump elected from early on.
Two, Trump was willing to support them in their attack on our election and our country's sovereignty to the extent of making an illegal deal to grant a presidential pardon to Assange if Assange would lie for both Trump and the Russians and help them cover up the Russian interference in America's election.
Three, Trump is a Putin quisling and a traitor.
If you or I exchanged something of value to bribe someone to cover up a crime, especially a direct attack on this country by a hostile foreign power, we would go to jail. Trump, on the other hand, is being backed no matter what he does by his rabid supporters who are flogged constantly by a corrupt right wing media, including Russian-backed phony news bots, and equally corrupt and phony religious leaders.
Trump's spokeswoman issued the standard Trumpian denial, complete with claims that Trump "barely knows" the (then) United States Congressman Assange's attorney said Trump used as a messenger.
Trump says that every time. He even claimed at one time that he didn't know Roger Stone. Then, as it has with Stone, the denial always turns out to be another one of Trump's lies. I'm to the point that I think he's lied so much and so consistently that the proof of whatever he says is on him.
From CNBC:
KEY POINTS

President Donald Trump offered a pardon to Julian Assange if the WikiLeaks chief agreed to say that Russia had nothing to do with hacking emails from Democrats during the 2016 presidential election, Assange's lawyer said.
The claim was made at a court hearing in London, where U.S. officials have asked for Assange to be extradited to the U.S. to face multiple criminal charges.
Russian agents hacked emails from the Democratic National Committee and the campaign chairman for Hillary Clinton in 2016. Those emails later were made public by WikiLeaks.
White House spokeswoman Stephanie Grisham called the claim by Assange's lawyer "a complete fabrication and a total lie." She also said Trump "barely knows Dana Rohrabacher."
WikiLeaks founder Julian Assange arrives at court in London on May 1, 2019 to be sentenced for bail violation.

Daniel Leal-Olivas | AFP | Getty Images

President Donald Trump offered a pardon through an intermediary to Julian Assange if the WikiLeaks chief agreed to say that Russia was not involved in hacking emails from Democrats during the 2016 presidential election, a lawyer for Assange reportedly told a court in London on Wednesday.

Assange's lawyer Edward Fitzgerald made that claim during a hearing related to Assange's requested extradition from the United Kingdom to face more than a dozen criminal charges in the United States, according to The Daily Beast news site.

Fitzgerald referred in that hearing to a statement from Jennifer Robinson, another lawyer for Assange, saying that then-Rep. Dana Rohrabacher, R-Calif., told Assange that, "on instructions from the president, he was offering a pardon or some other way out, if Mr. Assange … said Russia had nothing to do with the DNC [Democratic National Committee] leaks," The Daily Beast reported.

Rohrabacher, whose pro-Russia stance led to him being derisively nicknamed Vladimir 'Putin's favorite congressman,′ allegedly made that claim during a visit in the summer of 2017 to Assange at Ecuador's embassy in London.

At the time, Rohrabacher told The Hill that "Our three-hour meeting covered a wide array of issues, including the WikiLeaks exposure of the DNC [Democratic National Committee] emails during last year's presidential election.

"Julian emphatically stated that the Russians were not involved in the hacking or disclosure of those emails," Rohrabacher told The Hill at the time.

The congressman also said at the time that he had information to share privately with Trump.

White House Press Secretary Stephanie Grisham said, when asked about the claim of a pardon offer by Trump, said, "The President barely knows Dana Rohrabacher other than he's an ex-congressman."

"He's never spoken to him on this subject or almost any subject. It is a complete fabrication and a total lie," Grisham said. "This is probably another never ending hoax and total lie from the DNC."

Trump in a November 2018 tweet called Rohrabacher "a great Congressman for his district," who "works hard and is respected by all."