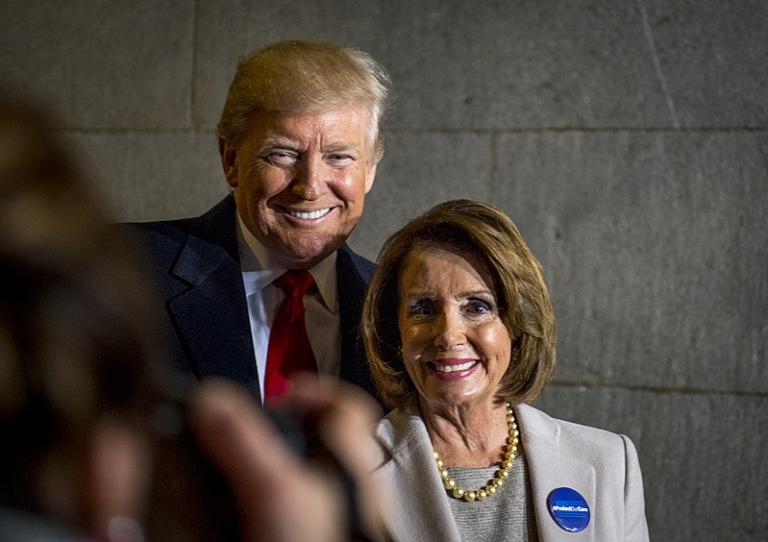 There have been a lot of lies circulating about what the Democrats are putting in their stimulus package. I believe this is mainly being done to cover up what the Rs are trying to do, which is to create a slush fund to be administered indirectly by the president.
Trump himself confirmed this in a press conference Monday in which he answered the question about who would provide accountability for the approximately $500 billion slush fund the Republican bill would create.
"I'll be the oversight," he said. "I'll be the oversight."
Meanwhile, Speaker Pelosi unveiled the House stimulus package. It actually helps people like you and me. Among other things, the bill would allow borrowers to put back payments on mortgages, rent and car payments.
Even though I expect that this proposal will get quite a bit of resistance from the financial sector, it actually would be in their favor in the long run, since it could stop people from defaulting on their loans. It would also help stop a meltdown in the housing market like the one we experienced in 2007.
I am not against shoring up American industries that are in shaky positions. But the open-ended bail-outs and slush-funds that are in the Senate Republican proposals are an invitation for corruption.
When someone as dishonest as President Trump says that he will be the "oversight" for the slush fund, I think the corruption is foregone. It's important to remember that the President's personal business empire is also losing money in this crisis. Given his propensity for making everything about him, we need to consider that when evaluating his decisions.
The Pelosi Plan
From Bloomberg:
House Speaker Nancy Pelosi unveiled a $2.5 trillion virus economic stimulus plan in a bid to shape negotiations on a Senate measure that stalled on Monday, triggering a sell-off in U.S. equities markets.

Pelosi's 1,400-page bill would have broad implications for the financial sector. It would force lenders to grant a temporary reprieve from mortgage and car payments and credit card bills. It would order the Federal Reserve to provide loan servicers with liquidity to allow borrowers to stop paying their mortgages for up to 360 days. Public housing residents would get a temporary reprieve from paying rent, and student loan borrowers would have $10,000 of debt forgiven.

Negative consumer credit reporting would be halted. Foreclosures and evictions would be banned.
Trump says he'll provide "oversight" to the Republican slush fund.
From Intelligencer: (emphasis mine)
Monday's White House coronavirus press conference brought a slew of questions as reporters hoped to parse out why and when President Trump intends to lift the national social distancing measures and how the Republican stimulus bill would responsibly distribute a $500 billion corporate slush fund that currently allows for the Treasury Secretary to withhold the names of the businesses that receive bailout cash.

… Answering the question of who would provide accountability for the unrestricted distribution of half-a-trillion dollars, Trump's response was even less promising: "I'll be the oversight. I'll be the oversight."
… One obvious outcome of this financing arrangement would be to create the all-but-certain outcome that the Treasury would select the Trump Organization as one of the worthy recipients of its largesse. Trump's vacation properties have indeed been forced to shut down, and while an unbiased manager might not select the Trump Organization over needier coronavirus victims, Trump himself probably thinks differently.