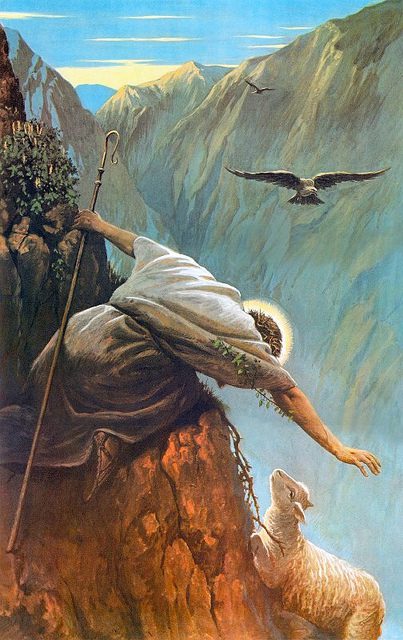 For I am persuaded that neither death, nor life, nor angels nor principalities, nor powers, nor things present, nor things to come, nor height, nor depth, nor any other creature, shall be able to separate us from the love of God, which is in Christ Jesus our Lord. St Paul
God supplies the lacks.
That sentence is a foundational belief of mine. It is a lived experience of grace formed into an understanding of the reliability of God's love and care for us.
When we fall short of the perfection we would have to achieve to reach Him on our own effort, He supplies the lacks. He reaches out to us and lifts us the rest of the way up to heaven.
This isn't some pretty little concept. It's a lived reality.
When the priest is a mess of sins and doubt who doesn't even believe in what he's doing when he says the mass, God reaches through him and into us and delivers the Eucharist, anyway.
When we go through mass day-dreaming about the car we want to buy, or seething about what our in-laws said at dinner last night, or hiding the shame of sins we won't admit, He slowly brings us around to Himself. He heals us, and refocuses us.
Now, in a time of pandemic, when the mass is a virtual thing and the taste of the Eucharist is entirely spiritual rather than physical, He is, once again, supplying the lacks.
Have you felt it?
I certainly have.
Participating in the mass on the internet, in my own beloved parish, with my own dear pastor, is just as powerful, maybe even more powerful, than being there in the sanctuary. The virtual Eucharist heals with the same power that it has when you partake of it physically.
That is the Holy Spirit, my friends.
It is God, supplying the lacks.
He does that.
He will always do that.
You can rely on it.
You can trust it.
The power of the Eucharist does not come from the church building. It does not come from the priest. It does not even come from the Catholic Church.
It comes from God. It is Christ Crucified, sacrificed for us.
Jesus Christ got up from the grave and walked out under His own power. He plumbed the depths of hell for us.
Do you really believe that a pandemic can separate you from the love of Christ? Not so. A thousand times not so.
No one, nothing, can separate you from the love of Jesus Christ. You can trust that, and rely on it. You can build your life on it. You can — and you will — face your death with Him standing beside you.
It's Easter.
He is risen.
He is risen for eternity.