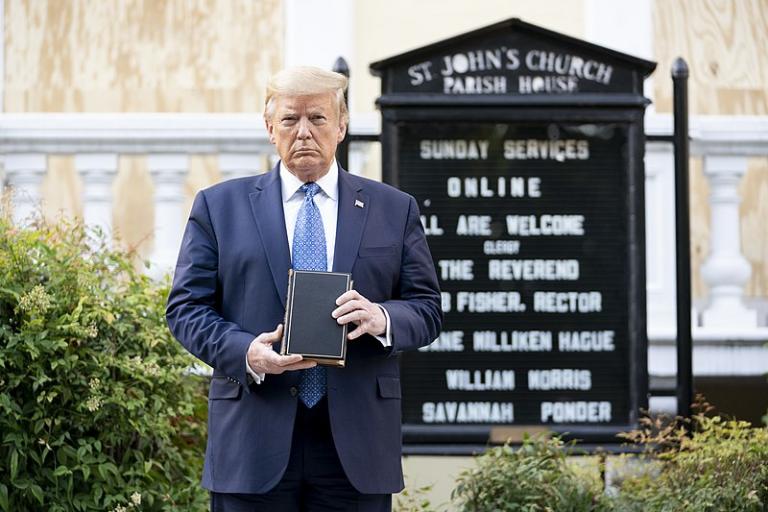 You shall have no other gods before me. You shall not make for yourself an idol of anything in the heavens above, the earth below or the waters beneath. You shall not bow down to them or worship them. Exodus 20: 3-5a
Ever since the Moral Majority was founded, certain right wing preachers have been using Romans 13 to browbeat their followers into mindless support for Republican presidents, no matter how incompetent the president might be.
St Paul wrote a series of letters to the various Christian churches he had founded. These letters were sort of like homilies, or instructions, to new Christians who were trying to figure out how to follow Christ in a hostile world that was bent on killing them in ugly ways. We call these letters the Epistles.
Paul wrote the Epistle in question to the little church in Rome. This church was sitting right in front of the government's jaws. Its existence could not have been more percarious.
St Paul said a lot of wonderful things in the Epistles. Christians have turned to some of things he wrote for comfort and inspiration for 2,000 years now. But he also wrote a few verses — literally a handful — that, when they are in the hands of religious leaders who want to use them to preach hate and to bully their followers, are often used to cancel out the message of the Gospels themselves.
Political preachers cherry pick the Scriptures for verses that will support their political bullying. They use one or two verses in the Epistles to cancel out everything that Jesus taught.
They use these verses to create their own political theology of racism, misogyny and hate We see it in action all the time, especially from the hate-filled, anti-Christ, Trump worshipping Christian Right.
Whenever a Republican is president, they are prone to trot out the first verse of Romans 13. Here's the verse:
Everyone must submit to governing authorities. For all authority comes from God, and those in positions of authority have been placed there by God. Romans 13: 1
They tell their already brainwashed followers that if they want to follow the false christ that they have preached to them, they must bow down before the Republican Caesar and touch their foreheads to the floor in front of him. They use these verses to convince their foolish followers that bowing before Caesar is God's commandment.
They also like to mix the story of David and Saul into this. For those of you who don't know the story, Saul was the first king of ancient Israel. The people demanded that the prophet Samuel ask God to give them a king. Samuel tried to talk them out of it, explaining the horrors of dictatorial abuses that awaited them, but they wouldn't listen.
So, God selected a boy named Saul and had Samual anoint him as king. Later, Saul fell out of favor with God, and God had Samuel anoint a boy named David as Saul's successor.
This led to a civil war in which Saul tried to kill David and David went into exile. At two points in this war David came across Saul while he was sleeping. Each time David refused to kill Saul, saying he would not harm "God's annointed."
This story of David and Saul gets mixed in with Romans 13 by right-wing American preachers who are trying to bully their flocks into worshipping and obeying Republican presidents. Its mis-use has become especially nasty in their zeal to force everyone they can to bow down before Trump.
Basically what these preachers are doing is mis-using Scripture to instruct their followers to bow with their foreheads on the floor in front of the false Republican god. The preachers then put their foot on the backs of their followers' heads to hold them there.
Let's look at this.
First of all, before I even get to their self-serving interpretation of the Scripture itself, let's consider the hypocritical way that the preachers apply it.
They only trot this thing out when a Republican is president. When a Democrat is in the White House, they go the other way and tell their followers that Jesus wants them to rebel against their leader and oppose him in every way.
They make no distinction between good policies a president might have and bad ones. They oppose the Democrat with full-on self-righteous hatred, no matter what he does. They support the Republican with equally self-righteous idolatry, no matter what he does.
They demand, on pain of eternal hell, that their followers stop exercising their God-given free will and intelligence and obey like puppets. They want them to behave like Stepford Christians who worship Republican presidents and hate and revile Democratic presidents on command.
The reason that these preachers do this is that the want to use their followers to get power for themselves at the political table. Jesus Christ has nothing to do with their ministries.
These preachers are not followers of Christ. They are ambitious political operatives for the Republican Party who like having the cell phone numbers of powerful politicians. They are hypocritical, two-faced political whores.
Now, let's put the Bible verses they use to beat their followers into becoming slaves for the Republican Party back into the context of the Scriptures where they belong.
When David said that Saul was God's anointed, he spoke a literal truth. Samual had anointed Saul at God's behest.
When St Paul spoke about "leaders" he was referring to the Roman Caesar and his appointees. These were the people who could and did grab a guy off a road and force him to carry another man's cross up a steep hill. They were the people who could decide to kill all the baby boys in a whole area of the country and do it without anyone questioning them.
The Romans fed people to wild animals and watched men battle to the death for entertainment. They burned Christians to death and left their bodies flaming on the roadside to provide light a night. That's where we get the phrase "Roman candle."
St Paul was Jesus' evangelist to the gentiles. He probably wanted to keep the new converts to Christ alive. He was telling them that their zeal for Christ did not require them to go out and break the law and get themselves killed for Him. That would be suicide, and yes, suicide, even suicide by Roman Caesar, was a sin.
He wasn't trying to turn them into automatons for the Roman emperor. If he had been doing that, he would never have converted them to this new, illegal, religion we call Christianity in the first place.
Roman Caesars came to power by different means, but it often involved the brute force of military arms combined with inherited position. Most of them left the throne feet first, when the same military that put them in power got enough of them and took them back out again.
So what we have here is one set of Bible verses concerning a king who was anointed by the Prophet Samual at God's behest, and Roman emperors who were put in place by a combination of bloodline and military power.
I don't know if you've noticed, but that is not how Americans get their presidents. We chose our presidents ourselves. The only anointing they ever get is the anointing of an election.
We anoint our leaders. We put them in power. And we can take them out.
We've got a thing going here that Lincoln described as "government of the people, by the people, and for the people."
We don't have to bow down before these guys we put in office because we put them in office. They work for us. If they don't work for us, we can replace them.
Donald Trump is destroying this country. There is nothing except hatred and lies to recommend him for re-election. The idea that Christians must bow down before this vile, sexually perverted, corrupt, cruel old man is not only a lie, it is revolting.
The way the right wing preachers are mis-using the story of Saul and David and Romans 13 is the sin here. There is nothing wrong with an American exercising his or her just and legal authority to instruct the president he or she has put in office to do what we tell them to do.
In America, the government is us. We the People are the ultimate authorities.
Don't let political whore preachers bamboozle you into defrauding yourself of your birthright as an American.
You don't have to bow down before any false god, any Caesar.
That includes Trump.