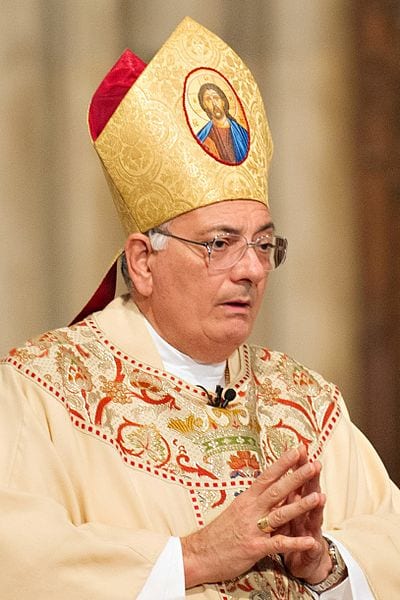 Bishop Nicholas DiMarzio, of the Diocese of Brooklyn NY, faces two accusations of child sexual abuse from former parishioners.
Bishop DiMarzio is the same bishop who joined with Agudath Israel of America in a lawsuit challenging New York's COVID-19 public health restrictions. The United States Supreme Court, which had earlier ruled in favor of such restrictions, reversed itself last week in favor of the Diocese of Brooklyn and Agudath Israel of America.
I wrote a post yesterday about my strong opposition to both the decision and the actions that the Diocese of Brooklyn took in joining the lawsuit. I think these restrictions are a public health and safety issue designed to deal with a world wide pandemic. I also think that opposing them not only sets a terrible example for a Catholic institution to take by setting its desires for Churches full of worshippers above the basic right to life of individual people and the common good. I am guessing that the lawsuit was advanced with monies that came from parishioner donations.
I raised the question as to what a parishioner was supposed to do when their bishop defied health and safety advice from medical experts. I said that Bishop DiMarzio is a quack who I believed was exhibiting hubris and a disregard for the health and safety of his flock as well as the larger community. I do not retract that.
I had no idea at the time I wrote that blog post that Bishop DiMarzio had been accused by two different former parishioners of sexually abusing them when they were children. One of the boys who has accused Bishop DiMarzio says that he was a child of six when the abuse began. The other boy says that he was 11 years old at the time DiMarzio first sexually assaulted him. Both boys said the abuse was repeated over a long period of time. The boys were from different parishes.
DiMarzio denies the accusations. His attorney has said that he has "proof" of DiMarzio's innocence, although so far as I can tell, he has not produced it in a pubic forum.
Ironically, Bishop DiMarzio had been appointed by the Pope to conduct investigations into allegations of sexual abuse against priests.
Bishop Nicholas DiMarzio, who once led Diocese of Camden, faces sex abuse claim.
Second Sex Abuse Allegation Against Bishop Nicholas DiMarzio.
New Accuser Comes Forward in DiMarzio Case
Brooklyn Bishop Nicholas DiMarzio Faces Second Sex Abuse Claim
A Letter From Bishop DiMarzio Regarding Second Allegation of Misconduct
DiMarzio 'ready, willing and able' to defend himself as lawsuit faces delay