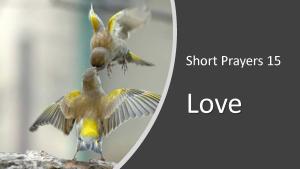 Short Prayers? So, what about love? And, what about God's love for us? Is it eternal?
I love to eat hot dogs. I love my dog, Angie. Romantic love seems stronger than any other human power. Jesus tells me to love both God and neighbor. All all these the same?
Love never ends. (I Corinthians 13:8)
Is love eternal?
When I was a young boy growing up in Dearborn, Michigan, I loved to watch Milton Berle [actually Mendel Berlinger (July 12, 1908 – March 27, 2002)] — known as "Uncle Milty" – on television.  Routinely, a deliberately unattractive woman with great passion would grab the comedian by the breast lapels and holler, "don't fight it, Milton.  It's bigger than both of us!"  Hesitating and pulling away, Milton would ask, "What is bigger than both of us?"  The answer, of course, was love.
There's something about the experience of love—whether we are the lover or the beloved—that gives us the feeling that it is "bigger than both of us."  The phrase "falling in love" indicates that love is not simply at our disposal.  It is love itself that is in the driver's seat, and we are going along for the ride.  There is something transcendent yet immanent about love, something eternal as well as immediate.
How do I love Thee?
Love songs frequently promise love forever.  Our marriage vows promise love until at least "death do us part."  Perhaps there is no greater testimony to the ability of love to carry us up and out and beyond the mundane into the realm of the eternal than the sonnet of Elizabeth Barrett Browning, "How Do I Love Thee?"  Having injured her spine in a fall at the age of fifteen, young Elizabeth was a near bed-ridden invalid for more than two decades.  Then, she fell in love with Robert Browning.  Almost miraculously she could walk again.  Her health and life improved dramatically.  To Robert she writes,
       How do I love thee?  Let me count the ways.
I love thee to the depth and breadth and height
My soul can reach, when feeling out of sight
For the ends of being and ideal Grace.
I love thee to the level of every day's
Most quiet need, by sun and candle-light.
I love thee freely, as men strive for Right.
I love thee purely, as they turn from Praise.
I love thee with the passion put to use
In my old griefs, and with my childhood's faith.
I love thee with a love I seemed to lose
With my lost saints,–I love thee with the breath,
Smiles, tears, of all my life!—and, if God choose,
I shall but love thee better after death.
Love may feel eternal. But, is it really?  I once heard two psychologists discussing romance.  There is a strict time limit on romantic love.  It lasts from six months to two years maximum.  Then the passion dissipates.  If two people wish to love each other for the whole of their lives, then, they need something more than romantic passion to carry them.  There are other forms of love available, such as friendship or charity or even duty.  These last longer.
In the New Testament we find the beautiful passage of  1 John 4:16b: "God is love, and those who abide in love abide in God, and God abides in them." Love, then, is eternal because God is eternal.
Or, to put it another way, if our love is going to last it must be a love rooted in God.  "If God choose," asks Elizabeth Barrett Browning, "I shall but love thee better after death."  The good news is that our eternal God so chooses.
PRAYER
We love because you first loved us, O God; let us borrow the eternity of your heavenly love to strengthen our love on earth. Amen.
▓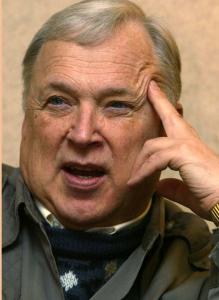 Ted Peters is a Lutheran pastor and emeritus seminary professor. He is author of Short Prayers  and The Cosmic Self. His one volume systematic theology is now in its 3rd edition, God—The World's Future (Fortress 2015). He has undertaken a thorough examination of the sin-and-grace dialectic in two works, Sin: Radical Evil in Soul and Society (Eerdmans 1994) and Sin Boldly! (Fortress 2015). Watch for his forthcoming, The Voice of Public Christian Theology (ATF 2022). See his website: TedsTimelyTake.com.
▓