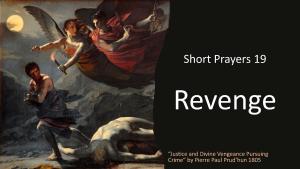 Short Prayers? What about justice? What about punishing those who have wronged me? What about condemning those who do evil? What about crushing my enemies so that only my friends remain? If my enemy has treated me unjustly, I am justified in taring that enemy limb from limb, right?
What about one big and final conflagration in which Satan and all evil people are killed and thrown into the lake of fire? Then, only the good will remain, right?
Vengeance is mine, I will repay, says the Lord. (Romans 12:19b) 
Hop-Frog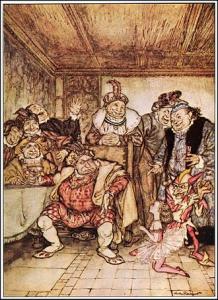 Hop-Frog is the hero of an Edgar Alan Poe story bearing this name.  Hop-Frog is a dwarf slave and court jester for a king with a medieval mind.  The king and his seven advisors insult and ridicule with insensitive abandon both Hop-Frog and his female slave friend, Trippetta.  Hatching an ingenious plot to take vengeance, the mistreated jester chains the king and advisors to a chandelier during a palace ball.  Hop-Frog then lights them on fire.  He and Trippetta make their escape to freedom while the aghast guests watch the human torch.
My sympathies as a reader immediately go out to Hop-Frog, the underdog.  It is a clear case of class oppression:  a despotic king mistreating his peasant servants, a healthy bully making fun of a malformed dwarf.  What a treat then to see the giant brought low, to see the underclass outsmart and overcome its oppressors.
Yet, I wonder.  What does the desire for revenge do to the heart of the vengeful person?  Does it produce hunger for hatred?  Does it lead to violence, to counter-violence?
I am not asking a question of justice.  Hop-Frog was properly executing retributive justice by executing the insensitive king.  No, it is rather a question regarding the health of the human soul.  This goes beyond justice. [Cartoon of Hop-Frog and Trippetta by Alan Rackham, 1935]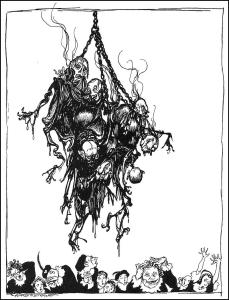 A sense of equality and fair play, in at least a rudimentary sense, is part of our natural endowment.  We are born with it.  It is innate.  This applies to evil as well as good. [Hop-Frog's fire, Alan Rackham, 1935]
Fairness makes justice equivalent to revenge.  It produces the "eye for and eye, tooth for a tooth" perspective.  It produces systems of justice for both clan and civil society.
Hence, revenge is natural.  Yet, God does something unnatural.  God reserves the right of revenge for himself.  And divine vengeance does not always look like human vengeance.  God repays evil with grace, suffering with sacrifice, death with life.
What would it mean, then, for us to turn vengeance over to a sacrificing God?  Would it eliminate our thirst for justice?  No, of course not.  It is our thirst for overturning the world's injustices that propels our moral fervor.  Yet, to be infused with God's sacrificial love might soften if not eliminate the accompanying hatred that drives revenge.
PRAYER
God of both justice and grace, quench our thirst for justice and dismiss from our souls any hunger for hatred. Amen.
▓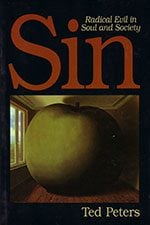 Ted Peters is a Lutheran pastor and emeritus seminary professor. He is author of Short Prayers  and The Cosmic Self. His one volume systematic theology is now in its 3rd edition, God—The World's Future (Fortress 2015). He has undertaken a thorough examination of the sin-and-grace dialectic in two works, Sin: Radical Evil in Soul and Society (Eerdmans 1994) and Sin Boldly! (Fortress 2015). Watch for his forthcoming, The Voice of Public Christian Theology (ATF 2022). See his website: TedsTimelyTake.com.
▓