Short Prayers? What about temptation? Should we pray that God would not put us to the test? What about Satan? Satan accuses, right?
Again, the devil took him to a very high mountain and showed him all the kingdoms of the world and their splendor, and he said to him, "All these I will give to you if you will fall down and worship me." (Matthew 4:8-10a)
Satan's Whisper
"Can we talk for a little bit when we both get breaks?"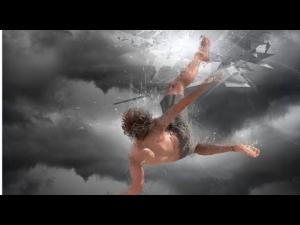 It was Dominick (pseudonym), a tenor with a marvelous voice.  He had sung solos in our little church.  The congregation loved having him come.  I had volunteered as an extra, called a 'super', for the current opera under production.  We were at rehearsal together.  Dominick wanted to talk.  We found an out of the way corner.
"I think I need some advice," he began.  Then he explained that there was a coven of Satan worshippers in the opera company.  Their worship involved among other things middle of the night ceremonies complete with animal sacrifice and pacts with the devil.  They were asking Dominick to join.  The coven included the biggest stars of the current production, some from the most famous opera companies on the east coast.  What they were asking of this young tenor could not have been a more classic example of direct and unabashed temptation:  if he would commit his eternal soul to the devil, then in this life he would become a famous opera star. [1]
"I don't know if you understand what this means," he said.  "There is nothing a singer wants more, nothing else that keeps him awake nights imagining and dreaming, than to have his talent recognized, to be asked to sing by the best companies, and to become  famous.  This is how (he then mentioned the name of the person singing the lead in the opera we were rehearsing for) made it."
"Does this apply to you too?" I asked.
"Oh, yes.  There is nothing in this life I want more."
Satan, the Tempter
"Then why are you talking to me?  Why haven't you already joined?  What is holding you back?"  I was convinced that the Satan worshippers had not yet hooked Dominick completely.  No doubt the temptation was powerful.  But there seemed to be sufficient resistance in his own heart that he had sought me out, knowing full well that I could not support his joining a coven.
We talked a number of times while the opera ran.  After the last performance, we found ourselves sitting together on a bench adjacent to the parking lot.  We both were awaiting our rides.  In the intervening weeks he had attended some late night functions held by the Satan worshippers.  He was being affected by their persuasive recruiting. His resistance was clearly weakening.  He tried to put me to the test.
"Ya know," he said, "the people of Satan are really not as bad as you might think.  They believe in the right things.  There is a strong commitment to world peace and putting a stop to war.  They make contributions to feed the starving in Africa.  They support equality between the races and the sexes.  They believe in human rights.  And the problem is that Christians give the Devil a bad name.  The people in the churches are a bunch of hypocrites."
"Let me ask you something, Dominick."  In my mind this young man was a genuinely good person.  He came from fine Italian-American stock, was baptized in the Roman Catholic Church, and his businessman father was at that time serving as deacon in his home parish.  He had been given the power of the Holy Spirit in his baptism.  The question for me now, as his pastor, was whether or not he could use that holy power for wisdom and insight and strength of will.  "Do you believe we should work for world peace?  Do you believe we should feed the starving?  Do you believe in human rights?"
"Absolutely!"
Satan, the Father of Lies
"Now, Dominick, suppose someone were to walk up to you on the street and say, 'I represent the forces of evil in the world.  Let's go out and sin a little bit.  I know some real exciting injustice we can perpetrate and some cruelty we can inflict'.  Would you follow that person?"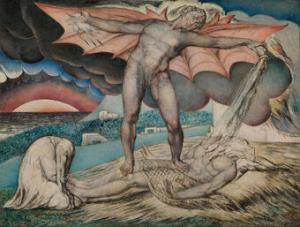 "No, of course not."
"Then think for a minute.  You are a high-minded person.  You are not selfish and narrow.  You have a healthy conscience.  You believe in the right things.  Now this temptation—and that is what it is, Dominick, a full-fledged temptation—is geared to appeal to the very best in you.  But it's a fraud, Dominick.  The Devil is the father of lies.  They've given you some delectable looking bait, but there's a hook in it."
That was the last time I saw Dominick.  When I left him there, he was sitting and looking at the cars.  He appeared quiet on the outside.  But there was an eternal wrestling match going on within his soul.
Whenever I pick up an opera program these days, I look for Dominick's name.  I hope never to find it.
PRAYER
God of strength and righteousness, lead us not into temptation; yet, if we find ourselves tempted, give us the strength to say, "Be gone, Satan!" Amen.
▓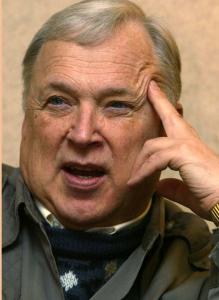 Ted Peters is a Lutheran pastor and emeritus seminary professor. He is author of Short Prayers  and The Cosmic Self. His one volume systematic theology is now in its 3rd edition, God—The World's Future (Fortress 2015). He has undertaken a thorough examination of the sin-and-grace dialectic in two works, Sin: Radical Evil in Soul and Society (Eerdmans 1994) and Sin Boldly! (Fortress 2015). Watch for his forthcoming, The Voice of Public Christian Theology (ATF 2022). See his website: TedsTimelyTake.com.
▓
[1] This invitation to Dominic to join a coven was not part of the
Satanic Panic of the 1980s
. It predated the
Satanic Panic
.