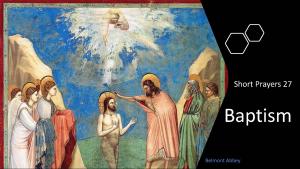 Jesus said, "Let the little children come to me, and do not stop them; for it is to such as these that the kingdom of heaven belongs." (Matthew 19:14)
The power of the Holy Spirit comes with baptism. Most of the time, this power goes unnoticed. Unused. Untapped.
The Holy Spirit is like a wall socket. If you never plug anything in, you never get any power out. To plug in to the power of the Holy Spirit, just ask in a short prayer and you'll get the power–in the words of St. Paul in Galatians 5:22–for "love, joy, peace, patience, kindness, generosity, faithfulness, gentleness, and self-control."
 The Power of the Holy Spirit
Debbie was age six.  I met her walking down the sidewalk.   "Last Sunday I went forward," she proudly announced.  "In two weeks I'm gonna get baptized."
She continued to remind us in the neighborhood almost daily about the upcoming big event.  It happened.  She became baptized.  On the baptismal Sunday after the service when she had changed her clothes and was roller skating up and down the sidewalk, the subject came up again.  I asked her, "Debbie, in baptism God's Holy Spirit comes into your life in a special way, doesn't it?"
"Yea," she exclaimed.
"So, then, will the Holy Spirit be doing anything special in your life that you know of?"
"Yea.  I prayed that God's Spirit would help me to stop sucking my thumb and keep me from getting angry at my sisters."
Getting baptized is no little thing.  In Romans 6:3-4 St. Paul says that in this event we symbolically drown, dying with Christ.  Then we rise up out of the waters just as Jesus rose up out of the grave on Easter.  The result is that we walk in newness of life; we live with the power of the resurrection now.  Those of us who have been baptized have already died, really died to sin, death, and the power of the devil.  And we have really been raised by the spirit of the ever-living God.  Oh, yes, our physical death may still lay before us.  But relative to the death to our old life undergone in baptism, our future funeral will mark only what Martin Luther called a Tödlein, a little death.
Baptism means power.  It means transformation.  This power for transformation ought not to go untapped, ought not to be neglected and go unused.  It can remake our lives.  Would that with Debbie we all might ask the Holy Spirit to empower us to stop sucking our thumbs and help us dispel anger with our sisters.
PRAYER
God of water and resurrection, remind us that we have died and risen with Christ in our baptism, and empower us to walk today in newness of life. Amen.
▓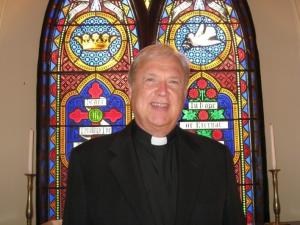 Ted Peters is a Lutheran pastor and emeritus seminary professor. He is author of Short Prayers  and The Cosmic Self. His one volume systematic theology is now in its 3rd edition, God—The World's Future (Fortress 2015). He has undertaken a thorough examination of the sin-and-grace dialectic in two works, Sin: Radical Evil in Soul and Society (Eerdmans 1994) and Sin Boldly! (Fortress 2015). Watch for his forthcoming, The Voice of Public Christian Theology (ATF 2022). See his website: TedsTimelyTake.com.
▓