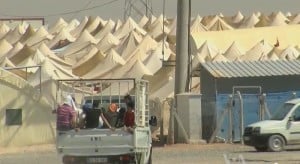 The Maronite Archbishop of Damascus, Samir Nassar, has written a heartbreaking letter for the beginning of Advent entitled "Christmas Solitude."
Sr. Anne Flanagan, FSP has posted an English translation of the letter.
An excerpt follows:
On  June 10, 2014 (Battle in Mosul in Iraq ) a new international conflict was born.  Islamic religious sentiment broke through the borders of war, countries and people, blurring the battles and conflicts. The Islamic State military may lose the war, but what about the Islamic school of thought that triggers Muslims reaction around the world? How do we account for this reality, analyze the issues and seek to understand and interact with them?

This new source of concern for Near Eastern minorities is a major challenge to inter-religious dialogue, and of tolerance among peoples and religions. The policy of  "burying our heads in the sand" solves nothing in regard to Islamophobia.

…

The roads that lead to Jordan, Iraq and Turkey are closed because of the fighting. The only escape that was open, until last October, was the road to Lebanon. Lebanon, a small country saturated a million and a half Syrian refugees, began to close its borders of with Syria allowing only emergency cases.

Thus our loyal Damascus feels isolated, condemned to live in danger, and die in their "hole" cut off from their relatives and friends already living in Lebanon. This loneliness adds to the anguish, the bitter cold winter experience, the sad tenor and feeling of neglect.

A lonely Christmas through Syria.
Our neighbors do not want us as we welcome all refugees in the Near East. Our faithful spend their Christmas celebration in the freezing cold of their "household nativity" relying on the warmth of their faith under the tender gaze of the Holy Family.
Read the entire letter at Sr. Anne's blog.
After you read the Archbishop's letter, please consider donating to Catholic Relief Services and also praying for the people of Syria, Iraq and all the surrounding countries that have been affected by war.
Archbishop Nassar also gave a recent interview in which he says:
"The hospitals no longer have sufficient supplies of medicines. One shell can kill three or four people immediately on impact and perhaps injure thirty or forty others. As a result ten more will die because they do not receive adequate medical attention. And of course you can also die of malnutrition. If you are a diabetic, for example, and need a certain diet, but don't get it, you will also die early. And the living conditions are also poor in other ways. We have two million children who no longer go to school … Previously we had projects for a kindergarten or a school, but now we are planning enlargement of the Christian cemetery."
The people tied up in this war that now bridges more than one country need our help.
Please help.