By Sr. Marianne Lorraine Trouvé, FSP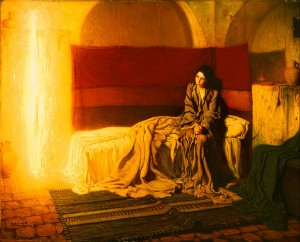 The Church presents Mary as a model for our Advent journey.
Why?
It might seem obvious since she gave birth to Jesus. But there's more to it than we might think.
In his encyclical Mother of the Redeemer, Saint John Paul II makes a remarkable statement in which he compares the faith of Mary to the faith of Abraham:
Mary's faith can also be compared to that of Abraham, whom St. Paul calls "our father in faith" (cf. Rom 4:12).  In the salvific economy of God's revelation, Abraham's faith constitutes the beginning of the old covenant; Mary's faith at the annunciation inaugurates the new covenant.  Just as Abraham "in hope believed against hope, that he should become the father of many nations" (cf. Rom 4:18), so Mary, at the annunciation, having professed her virginity ("How shall this be, since I have no husband?") believed that through the power of the Most High, by the power of the Holy Spirit, she would become the Mother of God's Son in accordance with the angel's revelation: "The child to be born will be called holy, the Son of God" (Lk 1:35). (RM no. 14).
When did the New Covenant begin?
It began with Mary's faith at the Annunciation.
It began with a woman.
Just as Abraham is our father in faith, Mary is our mother in faith.
Because she believed, Mary was open to the power of the Holy Spirit, who formed Jesus in her womb. Due to her Immaculate Conception, Mary was filled with grace and the Holy Spirit from the very first moment of her existence. But she received new outpourings of the Spirit throughout her life. At the Annunciation this new coming of the Spirit enabled her to conceive Jesus and thus she became the Mother of God. But her mission didn't stop once she had given birth to Jesus and raised him to manhood.
On Calvary as Jesus was dying, Mary and the beloved disciple were standing beneath the cross. Jesus said to Mary, "Woman, behold, your son." Then he said to the disciple, "Behold, your mother" (Jn 19:26-27). Jesus died shortly after and "he handed over the spirit" (Jn 19:30). This refers not only to Jesus' death, but to his giving of the Holy Spirit to Mary yet again. With this, Mary received a new dimension of her motherhood. Now she was to be the mother of the disciples of all time. Just as she had formed Jesus' own physical body in her womb, now she was to form Jesus in every disciple. The coming of the Holy Spirit on Pentecost confirmed this in a dramatic way. Mary was present with the apostles on Pentecost, when the Holy Spirit came upon all of them with a mighty wind and tongues of fire.
This is Mary's role in the Church: to lead us to Jesus. As the Catechism says, "Jesus is Mary's only son, but her spiritual motherhood extends to all men whom indeed he came to save" (no. 501).
As our Advent model, we can look to Mary in a particular way to help us grow in faith. In Galatians, Paul speaks of Abraham's faith and says, "Realize then that it is those who have faith who are children of Abraham… those who have faith are blessed along with Abraham who had faith" (Gal 3:7, 9). Because no one had more faith than Mary, she is the pre-eminent daughter of Abraham and that's why her faith begins the New Covenant.
If we let her, she will help us on our own journey of faith. As Blessed James Alberione wrote, "Devotion to Mary is for all those who want to attain [life in] Jesus Christ more quickly, easily, and surely."
You may have your own favorite ways of relating to Mary, but here are a few suggestions for Advent:
1. Read and pray with the Gospel accounts where she appears, especially in Luke's Gospel (chapters 1 and 2: the Annunciation, the Visitation, the birth of Jesus), and in John (chapters 2 and 19: Cana and Calvary).
2. Pray the Rosary. In this beautiful prayer the recitation of the Hail Mary's forms a backdrop against which we meditate on the lives of Jesus and Mary.
3. Imitate Mary by doing something for someone in need. As soon as she found out from the angel that Elizabeth was pregnant, Mary went with haste to help her. She made a gift of herself, not thinking of her own needs. That is a marvelous example as we prepare to celebrate the greatest gift, the coming of Jesus into our lives.
Please free free to add your own ideas in the comments!
May you have a blessed Advent and Christmas.
– – –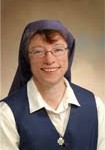 Sr. Marianne Lorraine Trouvé, FSP is a Daughter of St. Paul who currently works on the editorial staff of Pauline Books and Media.

She has a master's degree in theology from the University of Dayton, with a concentration in Marian studies (The Marian Research Institute at UD). She has also edited several books on Theology of the Body, including the new translation of Pope John Paul's talks that was done by Michael Waldstein. She is also very interested in Saint Thomas Aquinas and has been working her way through the Summa for several years now, one article at a time. 

Besides prayer and work, she likes to write, garden, do logic puzzles and take walks with friends. She blogs at Thomas for Today.