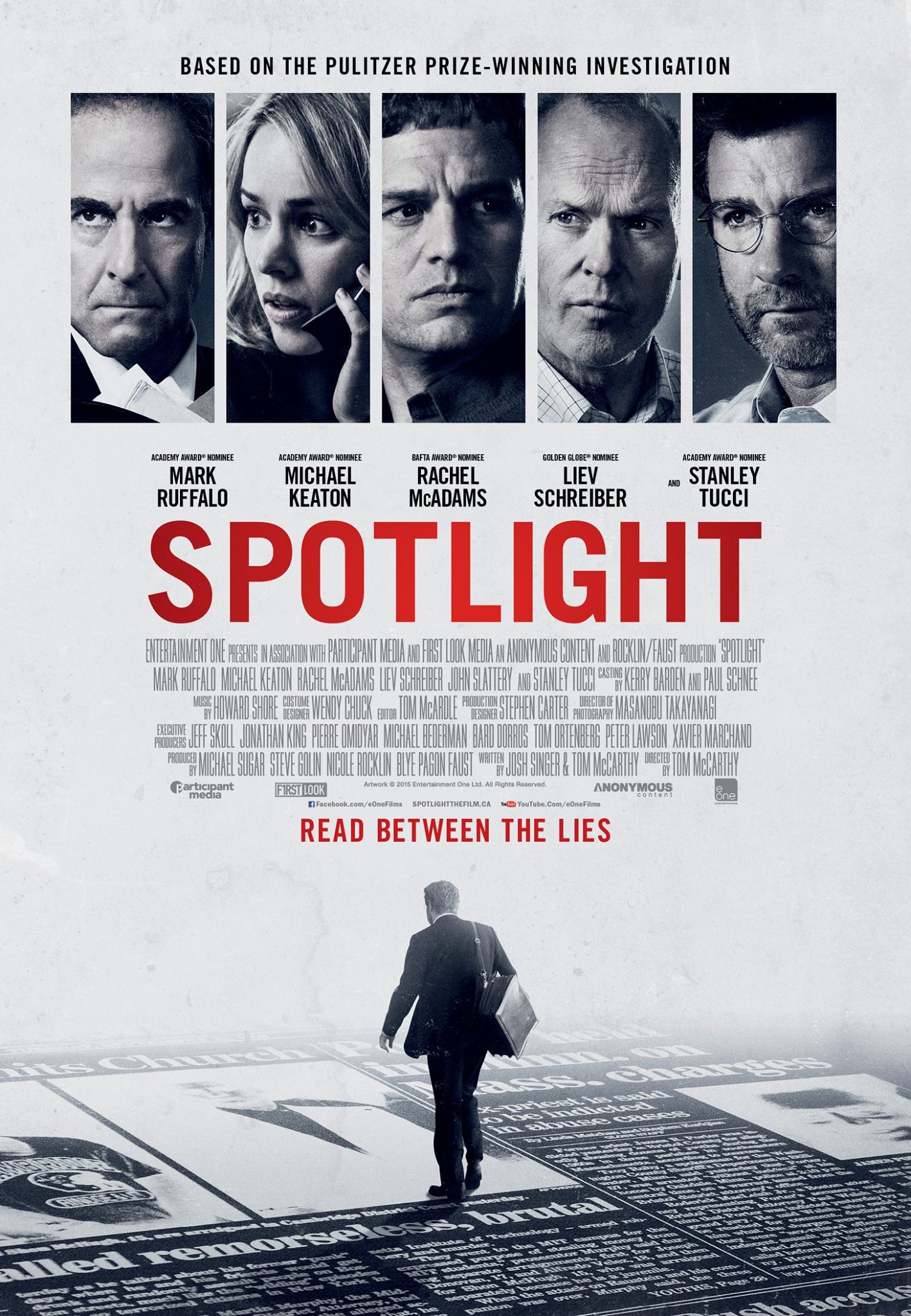 "Spotlight" is the recounting of the "Spotlight" team of intrepid investigative reporters at the Boston Globe who broke the Catholic Church's clergy sex abuse story in January 2002–mainly concerning the Archdiocese of Boston.
For starters, this is not a Church-bashing film even though it easily and rightfully could have been. It's an accurate, stark, almost understated presentation. It's rated "R" simply and appropriately for subject matter. Just enough of the horrific details of cases are disclosed in the film, the rest is hinted at discreetly.
NOT ENTERTAINMENT
"Spotlight"–as a feature film–is not a pseudo-documentary, nor is it juicy, sensational, exploitative entertainment. (And it feels wrong to critique it as such.) "Spotlight" is what I would call an "information film." The acting, too, is muted: none of the big name actors shine. The excellent cast seems to be humbly striving only to serve the story.
Is it hard to watch? Yes, of course. The tone is somber, dreary and somewhat suffocating–as it should be. The monolithic power of the Catholic Church (till 2002) over civic, religious and spiritual affairs in the city of Boston is chilling. It extended even into the Globe where employees (many of whom were Catholic) simply knew you don't take on the Catholic Church. They are even trained to believe that when the Catholic Church dismisses claims, they can't possibly be true. It took an outside editor from New York (the New York Times purchased the Boston Globe in 1993) to press the issue.
MAGNITUDE
The timeline unfolds without much fanfare. Little by little, the magnitude of the number of priests, victims, and the span of years and cover-ups becomes clearer and clearer. Since we, the audience, presumably know the sordid story and outcome, there are few surprises and no real highs, lows or even serious crisis points. The kicker is that everything, all the evidence was hiding in plain sight. All the reporters needed was a few names of priest-abusers, the secret code words "sick leave," "unassigned," and "leave of absence," and the cooperation of a few victims, lawyers and judges. Much is made of the fact that B.C. High (a Catholic Jesuit boys high school that some of the reporters themselves attended, maintained an infamous priest-coach molester on staff) is directly across the street from the Boston Globe building.
Ironically, both the Catholic Church in Boston and the Boston Globe were at the height of their influence at the beginning of the new millennium, while a third character–the internet–is just becoming a serious player (a billboard for big, bad AOL is subtly placed in the film).
WHO'S TO BLAME?
Very self-effacingly–and I would say unnecessarily and misplacedly–the film blames The Globe itself in a big way for not reporting the story years earlier when lawyers and victims provided plenty of damning information that went ignored. Whatever culpability The Globe bears, they more than made up for it by compiling overwhelming, carefully-researched evidence that wouldn't be just another isolated story that would get buried. "The Church" and Cardinal Law are distant, cold, uncaring shadows. The abusing priests are sick and distorted men–almost excused. The names Geoghan, Shanley and Talbot (among others) will conjure up ugly memories for all who lived at the heart of this nightmare or on its peripheries.
FOCUS ON THE VICTIMS
The faces and voices of the victims are given three-dimensional reality and the major focus. Even the lawyer, Mitchell Garabedian–who insisted on bringing victims' cases to the courts to expose the Church's wrongdoing–is modestly underplayed.
DENIAL
Part of the initial incredulity of sectors of the public and the average Catholic in the pew to the Globe's scoop was due to the Globe's notorious anti-Catholicism since its very inception in 1872 (not unlike most of the old Boston WASP establishment). And many just didn't believe that so many heinous crimes of this nature could have been so well hidden for so long. If it were true, surely we would have known? Surely we would have heard some rumors and gossip? Whoever did know something was silenced with hush money, or gave up when crushed by the power of the Church's legal and "moral authority" arsenal and sway. But it didn't take long for the undeniable, verifiable veracity of the charges to grip the city and the world.
NO AFTERMATH
There is precious little aftermath in the film, as it wraps up on the day the first big story is released (there were a total of 600 stories run relentlessly about the scandal for at least a year afterward in the Globe). A few words of Epilogue are given, and then we are left with a gaping wound of sadness.
NO HOPE
There does not seem to be any hope put forth in this film. Not about healing for victims or reform for the Church. But maybe that was not a part of the film's scope. Maybe there is no way to find the silver lining here. There is also hardly any insight into the root causes of this terrible state of affairs. It's just raw evil on display. Perhaps this is the best way for this particular film to handle this grave matter. Sexual abuse destroys hope. No soothing, reassuring sugar-coating or "Hollywood ending" in this film.
NO GOD
There is hardly any mention of God in this film. No angry questioning of "Why did God allow this?!" or "Where was God?!" or  "How could purported men of God do this?" or "This has destroyed my faith in God!" There is only mention of "devout Catholics" and those who "go to church" or "don't go to church." There didn't even need to be a distinction made between a good God and bad men who represent God (and are doing a terrible job at it) because God is pretty much absent from the film. The one tragically poignant mention of God is from a male victim, now an adult, who says: "You don't say no to God" (meaning when a priest propositioned him at twelve years old, the only right answer was "yes"). Again, perhaps this was the best way to handle "God" in this story that had nothing to do with a good God, and everything to do with bad men. (The Church, although divinely instituted by Christ and guided by the Holy Spirit, is still human and sinful because of the free will of her members–even those who hold the authority. Thankfully, the sacraments and everything we need still operates through these men, regardless of their personal holiness.)
THREE FLAWS
As I see it, three minor drawbacks to the film are:
1) They got Cardinal Law a bit wrong. They made him a much older man (he was only 68 in 2001) with a hint of an Irish accent (Wha?). They made him a rather flat–although bold–stereotypical bureaucratic figure, when in reality he was a magnetic, charismatic personality who had actually been a media favorite when he first came to Boston.
2) The feeble, brief explanations given for the (unfettered) abuse were screaming to be explored and were even contradictory.
– "Celibacy is the issue. It creates a culture of secrecy." Really?? So if one attempts to practice (priestly) celibacy he has a good chance of being/becoming a depraved pedophile? And how are celibacy and secrecy related? This makes no sense. And sadly, most sex abusers of children? Married men.
– Another reason given  is that some of the priests were "psycho-sexually stunted at the level of a 12-year-old"–which may be very true, but that does not automatically make one a repeat child molester. The one priest molester we see being interviewed begins to say that he was raped, but the thought was not continued. (The rest of that statistic is that it was discovered that some priests who molested children were molested by priests themselves when they were children. They grew up, became priests and continued the incestuous cycle.)
3) I would like to have seen some rage in the film. Some of the rage that I felt and still feel in the pit of my stomach. Perhaps the filmmakers are leaving that up to us, the audience.
THERE IS HOPE
But of course, there is hope. Although sexual abuse (and spiritual-sexual abuse) takes a deep, deep toll, and a certain proportion of the victims tragically committed suicide, emotional healing is always a possibility.
SEE THIS IMPORTANT FILM
"Spotlight" is an important film to see, even if you kept up and delved into these dark waters–as I did–when they first hit the shore. The restrained even-handedness of the story-telling is remarkable and will prevent it from being a "controversial" film. It's truly a "talkie" film–as you would expect the milieu of a newspaper to be–but never tedious. The narrative and the horror is in the information itself each time more is unearthed. Why should you see this film? To honor the victims, first of all, and second of all to understand how corruption–of any sort–works, in order to be vigilant and oppose it. NEVER AGAIN.
Has ANY good come of all this sorrow? The suffering of the children, teens and their families has not been totally in vain. There is now a much greater awareness of the sexual abuse of minors all over the world, and new laws have been created to protect young people where there were none.

Helena Raphael Burns, FSP was going to be an ornithologist, but God zapped her and now she belongs to the Daughters of St. Paul, an international congregation of religious women dedicated to spreading God's Word through the media: www.pauline.org. She gives workshops to teens and adults on Media Literacy, Philosophy, and Theology of the Body. She is finishing an M.A. in Media Literacy Education; has a B.A. in philosophy and theology from St. John's U, NYC; and has a Certificate in Pastoral Youth Ministry from the Center for Youth Ministry Development. Sr. Helena studied screenwriting at UCLA and Act One, Hollywood. She is the writer/producer of www.MediaApostle.com and a co-producer onwww.The40Film.com. She tweets at @SrHelenaBurns and blogs at Hell Burns.