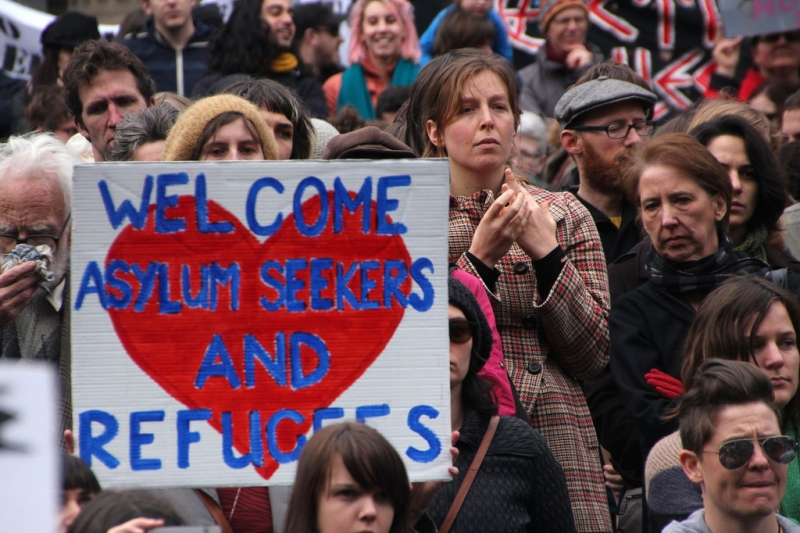 I heard Basma give this talk at a prayer service in Boston sponsored by the Community of Sant'Egidio, a movement in the Church dedicated to evangelization and charity. Basma gave me permission to share her moving talk that gives us a window into the experience of a Syrian living in the United States. – Sr. Theresa Aletheia
By Basma Alloush
As someone who has been granted asylum in Massachusetts, I'm one of the lucky ones.
I didn't have to endure the struggle that the refugees are going through. I didn't experience my home being blown up by a barrel bomb or my family members being killed in front of me or having to risk my life to flee on a dinghy boat. I was lucky because I was in America before the situation started in Syria finishing up my undergraduate studies. I was actually in Boston.
However, when it came time for graduation, things didn't go as planned. My family was only supposed to come for a month to celebrate my graduation and we were all going to return back to Syria together. My plan was to go back to Syria to establish a small exporting company to boost the agriculture sector of our market. I was interested in the field of economic development and I wanted to give back to my country by applying the skills I learned in the US.
Unfortunately, in 2012, the situation had escalated too far for me to go back so I had no choice but to remain in Boston. All of a sudden, I found myself stuck not knowing where to go or what to do. I was ready to start my career and life after graduation but I couldn't go back home. Year after year my life became more unsure, my family had to leave the United States because their visa didn't allow them to stay for longer than six months. I filed for asylum to stay in the US, my brother moved to Canada and my mom moved to Bahrain but we can't visit each other because of visa restrictions.
For three years, my life was in limbo. I did not know if I would be allowed to stay in the US and, if I was forced to leave, I didn't know where I would go because being a Syrian these days is not attractive. No one wants you and you're not accepted in a lot of places. During that time, though, I grew more attached to Boston and it became my home because it was the only place that I felt was willing to take me. Finally, this summer my asylum application was approved and I can finally sigh in relief, knowing that my dream of having a new home has become a reality.
Not being able to return to your country makes you feel like there is something wrong with you, like you've done something and its your fault that no one wants to have you or welcome you. But Boston didn't make me feel that way. I felt like every other person that I saw, I felt like I belonged, like I was welcomed. Until Governor Baker spoke out [against receiving refugees], and then things started to take a turn for the worse.
Now, I worry about my friends that have pending asylum applications. Their situation is even worse. They can't get attached to Boston, they can't feel like they have a home because, if for a second they had a glimpse, that spark of hope, it has all been stripped away because of what Governor Baker said and because of all the hate rhetoric that's been spread.
Being a refugee is tough, but being a Syrian refugee, I think, is even worse because you are faced with a double oppression. From one end, you have the Assad regime that has been constantly bombarding civilians and directly targeting them. And from the other end, you have ISIS that is slaughtering Syrians. The two barbaric sides only give you the option to either support them or be killed. This has forced Syrians to put their lives at risk and flee.
Its not their fault that they have fled, its not their fault that they're refugees, and its not their fault what is going on. They are only looking for stability, they're just looking for a home, for someone to welcome them, for someone to open their arms and hearts to them, they're just looking for a friendly face, they're just looking for someone to smile. They don't want charity; they don't want pity. But like all of us, they just need safety!
I still think that Boston is a perfect place to welcome these refugees but I think we have a lot of work to do. We need to make sure these refugees don't feel like they're second class citizens and that they don't feel like what they've been through is their fault. It is our responsibility to give them a glimpse of hope, it is our responsibility to make them feel welcome.
Refugees come here with different backgrounds in education. Each and every single one of them come having specialized in a specific field that can directly contribute to the society where they're going to rebuild their lives. I think if there was a cease fire right now in Syria, many of the refugees would go back because being away from your home and your homeland is probably one of the worst things you can experience.
But while they are here, they will come with resilience. They have faced so much but they still have the will to move on and search for a future. These refugees are strong. They've gone through so much and yet they remain optimistic and they remain hopeful. We can learn so much from these refugees if we can only open our hearts and open our eyes to them and accept them for who they are and listen to them and to their experiences. They're not trying to come here to cause trouble.
We need to remember that these refugees are fleeing the worst of crimes. The horrific attacks of Paris on November 13 are exactly what these refugees are fleeing. They're fleeing the terror and they're fleeing the horror and they're fleeing the killing. So let's help them by welcoming them here and let's provide them with that safety that they've been yearning and searching for.
Thank you!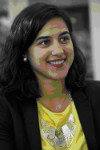 Basma Alloush is a second-year graduate student at the Fletcher School at Tufts University, focusing on Human Security and Transitional Justice. From Aleppo and Hama, Syria, Basma has focused her research on understanding the root causes of the conflict and studied other cases to extract lessons learned to be applied to Syria post conflict. She did her undergraduate studies at Northeastern University where she majored in Finance, working in software consulting for two years after that.