I'm so happy that Easter is here! It's going to be a good weekend of love, Christian musings, and spending time with family. And enjoying some good food, too, such as this Finnish Pulla (Cardamom Bread) made using my grandpa's mom's recipe!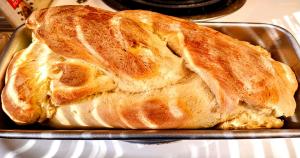 Contemplations
I've been digging deeper into the Gospels about everything leading up to Jesus' sacrifice for us. I'm still baffled by the arguably grey nature of Pontius Pilate, who really didn't want to authorize Jesus' execution because he knew that He was innocent. It was interesting seeing this portrayed in this scene here from The Gospel of John:
What strikes me about Pilate is that he tried repeatedly to convince the crowd of Jesus' innocence. Eventually, he gave up because of their bloodlust. Frankly, I'd hate to be in his shoes, having to deal with a crowd screaming for the death of an innocent man.
Probably the most fascinating part of Pilate's interaction with Jesus is when Pilate washes his hands in front of the crowd. His declaration that he won't have Jesus' blood on his hands has always stood out to me. No matter how ruthless Pilate potentially was as a ruler, he wanted nothing to do with executing a man he knew to be innocent.
When the people demand that Pilate remove the writing on Jesus' crucifix referring to Him as the "King of the Jews", Pilate's response is oddly curt. He essentially responded, "I said what I said" in John 19:22.
It's so sad to me that the Pharisees were so desperate to see Jesus be put to death. They really treated Him like He was the ultimate threat to their religious authority. Their bloodlust is frightening to read about.
Jesus provides us all with an impressive example of mercy towards one's enemies by pleading to His Father, "Forgive them, for they know not what they do" (Luke 23:34). To say this in the middle of a painful public death, all while being mocked and derided mercilessly.
His resurrection and meeting with Mary Magdalene is so heartwarming. Can you imagine being Mary, realizing with such immense joy that your beloved Teacher has risen? And to see that with your own eyes, no less!
You know, I regret not delving into the Easter story this much before. There's so much raw emotion in the passages here, and inspiration as well. Not even death could stop Jesus from carrying out His plan.
This carries a delicious parallel with that verse "The last enemy to be destroyed is Death." (1 Corinthians 15:26). Jesus conquered death in the most poignant fashion. Lazarus was excellent foreshadowing about His miracle!
I'm also looking forward to next Sunday, which is celebrated as "Divine Mercy Sunday"in the Catholic Church. One of my favorite saints, Saint Faustina, inspired this day by her discussions with Jesus about the depths of His Mercy.
I hope that Easter is a time of hope and inspiration for all of us, especially after everything we've gone through in the last couple of years! We all deserve this time of contemplation and peace as we remember what Jesus did for us.
I'm so grateful that I'll get to spend time with my grandparents and family tomorrow for Easter Sunday! The weather might be unpredictable and chilly tomorrow here in Ohio, but we'll all be warm together, one way or another.
Peace be with you, friends, wherever you are. May Easter be a time of peace for you and your loved ones!
Featured Image by Connor Brennan
Hello, and thank you for supporting my work here on Patheos! If you'd like to support me further, please feel free to "Buy Me A Coffee" here: