Psalm 56:3 is one of the Bible verses I found last summer when I needed words of comfort to soothe my depression. This specific psalm verse is short but sweet, a reminder for us all to trust God when we're afraid.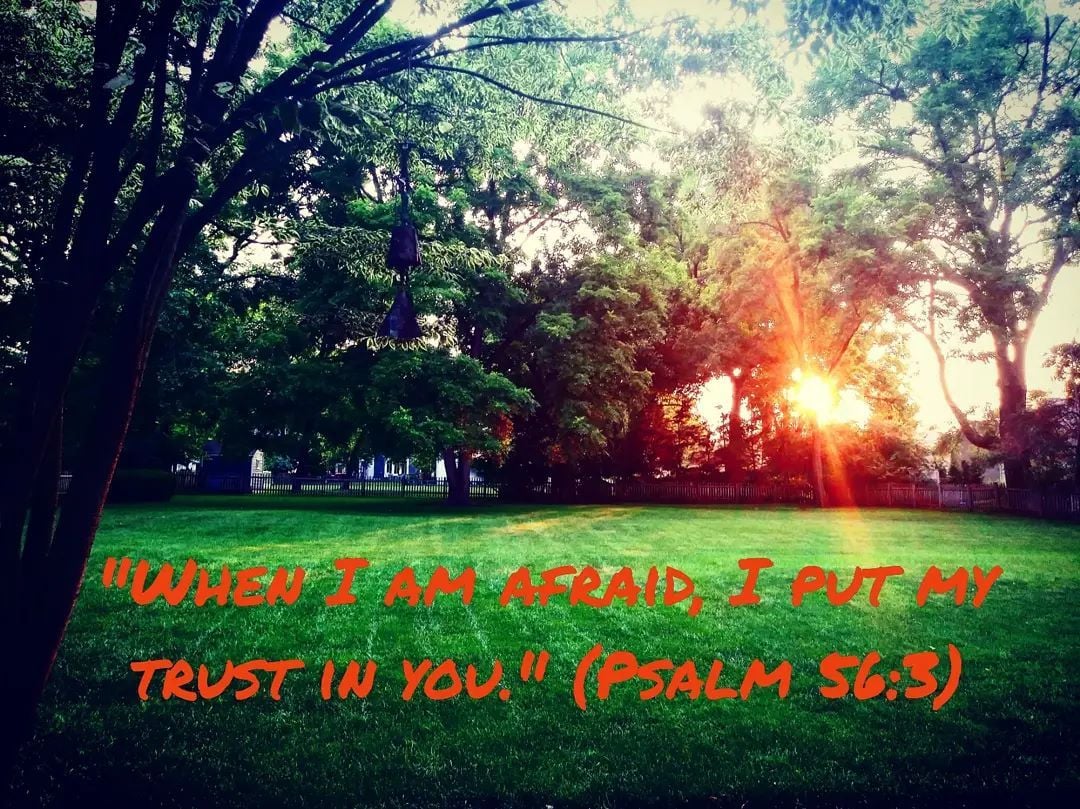 "When I am afraid, I put my trust in You." (Psalm 56:3)
Trust God, Not Anxiety
It turns out, from personal experience, that anxiety and depression go hand-in-hand! Lovely. While I don't think I have clinical anxiety, my depression does sometimes cause me to excessively worry over how the future might turn out.
This was a constant issue for me at my last job. There was too much going on. I'd lost two grandparents in one week, the pandemic was still going strong, and it felt impossible to catch my breath. All of this kept aggravating my depression to no end.
God has always been the one thing that keeps me grounded while dealing with these seasons of mayhem. If it wasn't for Him, I'd have lost my temper dozens of times over at my job due to the constant, frenetic pressure we were all under.
I highly encourage everybody to pray/talk to God about everything. I mean, everything. Talk to Him like He's your platonic soulmate. Confiding in Him about how low I've felt at times (working hand-in-hand with my Wellbutrin) has kept me going on days when I feel utterly exhausted.
When it comes to my depression, I confide in God about every detail. He calms the anxious storm in my mind and replaces it with gentle, logical truth. Some days, my worries over the future feel like they could overpower me. But choosing to trust God instead of my fears is the choice that sets me free from that trap.
Psalm 56 can be seen as somebody leaning on God as they battle against anxiety. To me, the verses here about facing oppressing enemies seem like the perfect analogy for what it's like contending with relentless anxious thoughts. These intrusive thoughts really can feel like a horde of enemies constantly trying to overpower you.
Saint Faustina's Lesson of Trust
I will always adore the life of Saint Faustina Kowalska. Learning about her encounters with Jesus helped me find peace in my own life, especially regarding my beloved friend Will's loss. She learned to trust Jesus in all things, a constant act that brought her endless happiness.
Jesus entrusted Saint Faustina with spreading His message of Divine Mercy. In one of His most famous appearances before her, Jesus told Saint Faustina to have a painter paint His image of Mercy. The phrase "Jesus, I trust in You" is typically attached to this image.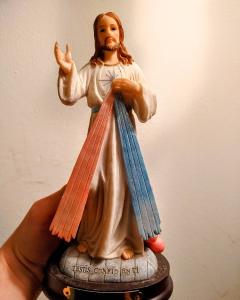 Something that's always stood out to me about the bond between Jesus and Saint Faustina is His somber explanation about His desire for all to Trust Him. Jesus told Saint Faustina that sinners refusing to Trust Him to forgive their sins hurts Him more than they could ever realize.
Back in December, on the morning of Christmas Eve, I had a beautiful dream where I met Jesus. In a massive room filled with people exhausted after a struggle, He manifested out of nowhere to our collective joy. He had such a big smile on His face, and our anxiety was quickly replaced with His peace.
Jesus turned to me and (I think telepathically?) told me that He knew I'd been afraid to approach Him. Of course, He was right. I'd been berating myself for letting my anger at work turn into horrible, nasty thoughts, especially about the people who'd been aggravating my depression symptoms.
His appearance and gentle message to me helped me focus on talking to Him more and letting go of everything that had been clogging my mind. Thanks to Him, I spent this Lent focused on letting go of every last bit of resentment from my job. Thank you, Jesus.
It was even more incredible that Jesus looked almost exactly like this statuette I found of Him: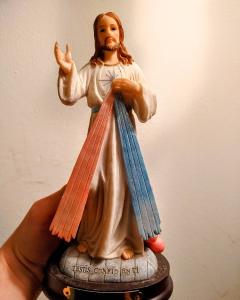 Divine Mercy Sunday
Oh, and that reminds me! Did you know that the Sunday after Easter is referred to as "Divine Mercy Sunday" in Catholicism? This became a Catholic tradition on April 30, 2000, the same day that Pope John Paul II canonized Saint Faustina.
I've just started researching this myself. This site gives Biblical readings for Divine Mercy Sunday, including Psalm 118 2-4 ("His steadfast love endures forever"). Psalm 118 pairs delightfully with Psalm 56 with their mutual focus on trusting God!
When I glanced at Psalm 118, this particular verse stood out to me:
"It is better to take refuge in the LORD than to trust in man." (Psalm 118:8)
It's the truth!
I'm going to have a ton of fun learning more about Divine Mercy Sunday, including the Divine Mercy Chaplet! The Chaplet integrates Saint Faustina's famous prayers to Jesus, such as her "O Blood and Water" prayer. This prayer happens to be a reference to John 19:34, where blood and water poured out of Jesus after the centurion pierced Him with a spear.
I love learning more about Saint Faustina's bond with Jesus! She inspires me to trust in Him more, to confide in Him about all things. May we all come to say, as she did, "Jesus, I trust in You."
Featured Image by Connor Brennan
Hello, and thank you for supporting my work here on Patheos! If you'd like to support me further, please feel free to "Buy Me A Coffee" here: