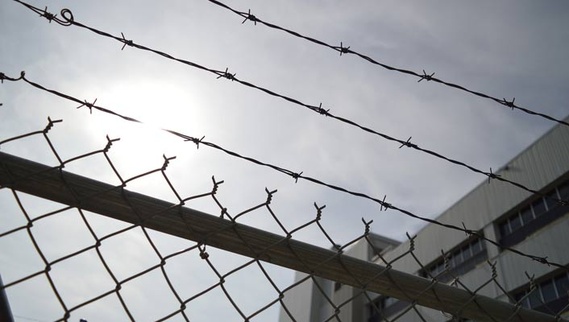 Over twenty-five years ago, on nine occasions I participated in peaceful, nonviolent civil disobedience, briefly going to jail (my longest incarceration was only two days) for what was an extremely unpopular cause—speaking up for unborn children. I remember how during a one-hour release from the jail cell, I checked over the "bookshelf" and found pathetic offerings. I determined to do what I could to donate some decent books that could get the gospel in there.
While in jail I shared the gospel with one inmate who "tried Christianity" but turned his back on it. I found myself praying that the Father would touch this needy man, and all those in prison who desperately needed Him. There were fewer insulating layers between them and their need for God than in the lives of many "free" people. They are hungry for hope and for purpose.
Even my brief time there gave me a much greater heart for prison ministries like Prison Fellowship. There is untold potential to minister to these men and women who are worthless in the eyes of the world, but who are so valuable to God that He shed His divine blood for them.
Ultimately, God really used that experience. What others intended for evil, God intended for good (Genesis 50:20). Shortly after we started Eternal Perspective Ministries, inmates began writing to request my books. Though it was part of our ministry I never really envisioned when we began, over the years we've given away thousands of books to prisoners in facilities across the U.S.
If you'd like to hear more about my jail experience, and how God used those circumstances to lead to our starting EPM, here's a 15-minute video where I share the story.
These days, EPM does many eternity-impacting things, including giving away my book royalties to worthy ministries. But ministering to inmates through giving away books is a huge part of what we do, and over the last year, this part of our ministry has literally exploded. During just one week in October of 2018, we received 279 letters requesting material and mailed 275 packages of books. Of the 279 contacts, 223 were contacting us for the very first time. We recently reached a benchmark of having served 25,000 prisoners who have contacted our ministry requesting free books. Just a few short weeks later, that number is now up to nearly 26,000.
In 2017 we had 2,958 new prisoner contacts and averaged 358 letters a month. In the first eleven months of 2018, we have had 6,008 new contacts and averaged 755 letters a month. This is about a 100% increase from the previous year. At this rate, we can only imagine what God will do through this ministry in the coming years. In the picture is one day's worth of book packages that we sent out! (Our wonderful staff member Sharon Misenhimer reads each letter we receive, and oversees addressing each request.)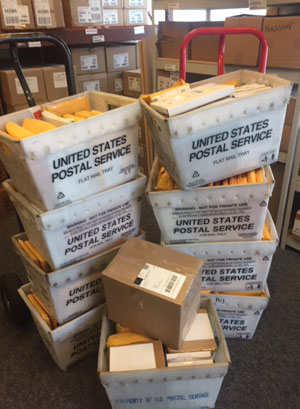 We are convinced from many direct interactions with both prison chaplains and prisoners that books sent to prisoners are widely read and have a far reaching impact. While books bought by people who aren't in prison often go unread, and may not be passed on to others that much, it is radically different for prisoners. They not only read books they have requested (and the great majority of my books are sent when prisoners themselves have requested them), but they also eagerly pass them on. It's common to hear reports of books that have literally fallen apart, pages coming out, because they have been read and reread so many times, sometimes by dozens of prisoners.
One prison chaplain shared with us how he asks inmates to memorize Psalm 23 before he gives them one of my graphic novels. The prize is the book, he says, but the real prize is their hiding God's words in their hearts.
Here are a few other notes we've received this year:
"I just paroled from a 3 1/2 year term my first time ever in trouble (I'm 53) and your books and magazine helped me tremendously, and I want to thank you. As a Christian for 40 years, who walked away and ended up in prison, your prison outreach along with God's grace, His word, Christ's sacrifice, and your ministry saved me." —James from California

The book Edge of Eternity is not only a great book for reading as a time passer but also it teaches lessons and opens a person's eyes to what's important in life…Now I know that God has only placed me here to put me back on track and He used you and your book to help. God bless you and your family and your works forever."  —Joshua

"I've been incarcerated for 17 years and never in my life would I ever read a comic book. I don't know how to read. And thanks to your comic books, I am seeking the Lord now. I'm a gangster loving your comic books. Thank you, Randy, for showing me about the Lord. I don't know much about the Lord now, but one thing I do know is that I'm going to heaven now to be with my Father." —Ramon from New Mexico 

"Thank you for sending me the Picturing Heaven coloring book. I love it!!! The devotionals go along with the coloring pages perfect. As I color the page, I think about what the scripture means. I share the pages with my daughter at home. It gives us a chance to talk about God when I call home." —Rhonda from Missouri

"I send the coloring pages (Picturing Heaven) to my two little girls once a week. I color half and they finish the rest." —Cirena from Missouri
"Open your eyes and look at the fields, because they are ready for harvest" (John 4:35, CSB).
If you'd like to partner with us in reaching these men and women for Christ, we'd be honored if you'd prayerfully consider supporting Eternal Perspective Ministries with a year-end gift. Financial gifts to our General Fund support our operating expenses and staff, and allow us to continue giving away the royalties from my books. (You can also give to our Books for Prisoners Fund, if you'd like to directly support that part of our ministry.)
Your partnership through prayer, giving, or both, is making an eternal difference! With great gratitude to God and personal appreciation of you,
Randy Alcorn
If you'd like to make a year-end, tax-deductible donation to EPM, please note that donations postmarked no later than December 31, or received online by 11:59 p.m. PT on December 31, will be included on this year's tax receipts.
Photo from Pixababy