The internet is abuzz with ladies who love the "Dad Bod", but please allow me to introduce one body type that will never, ever, go out of style: The Dog Bod.
I do not understand this #DadBod trend.
Apparently, biceps are "out" and bellies are "in".
I have a Dad. I do not want my husband to want my Dad's Bod. (In more ways than one.) (No offense, Dad. Love you.) (But far be it from me to question the choices people make about the bodies they enjoy. Live and let love!)
While college girls may want the Dad Bod today, their tastes will inevitably change tomorrow. Next week they'll want the Merman Bod, The Genie Bod, or maybe even the Grandad Bod.
There is no shame in this fair-weather fandom when you are barely old enough to order an adult beverage, but women know what they like and stick with it.
So please allow me to introduce one body type that will always be on point:
The Dog Bod.
The Dog Bod ideally consists of a decidedly Canine jaw, prominent ears, distinctive belly, four paws, and a tail. Women vary wildly in how furry they prefer their Dog Bod, but I think we all agree that some fur is a good thing. We also generally prefer a large, pink tongue, sensitive nose, super slobbery kisses, and eyes that telegraph, "IlLoveyouILoveYouILoveYouGIVEMEATREATILoveYouILoveYou".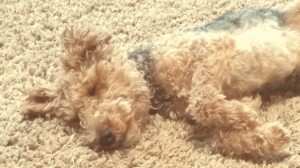 Here is a helpful summary of the Dog Bod:
Dining
The Dad Bod says, "I drink beer and eat 8 slices of pizza". The Dog Bod says, "I will eat anything you drop on the floor".
The Dad Bod can be an expensive date, especially if he likes his beer micro-brewed and his pizza Supreme. The Dog Bod salivates over last week's leftovers.
The Dad Bod may question your culinary abilities, especially if you happen to, say, occasionally set the kitchen on fire while roasting Brussel sprouts. The Dog Bod will gratefully eat your burned Brussel Sprouts, charred towel remains, and beg for more.
Don't let the fact that the Dog Bod eats garbage make you question yourself. You are a culinary master!
Cuddles
Though blessed with copious cuddle-ability, the Dad Bod is unavailable for cuddling approximately 40-100 hours a week. It simply may not be around when you are in need of a cuddle.
The Dog Bod is not only always available for cuddling, it cuddles you when you don't even know you want to be cuddled. It is available for cuddling during sick days, morning/afternoon/evening naps and binge-watching shows the Dad Bod detests. It begs for cuddles. It lives for cuddles.
The Dog Bod is Master of the Cuddle Universe.
 Belly
The Dad Bod has been praised for being soft around the center, but he tends to worry about becoming too paunchy or, alternately, not paunchy enough. He may become just a smidge obsessed with maintaining the delicate balance between beer/gym avoidance and protein powder/sit-ups to achieve Ideal DadBodness.
The Dog Bod is secure in the knowledge that his belly is his best feature. He shows it off at every opportunity, to family and strangers alike. Not only is the Dog Bod unashamed of his paunch, he rolls over in ecstasy if you so much as glance at his midsection.
Miscellaneous
In photos, the Dog Bod operates on the principle of exponential cuteness. The Dog Bod's presence in a photo multiplies your attractiveness; it's the sum of your cuteness, squared.
The Dog Bod thinks any chance to ride in the car with you is Christmas: He thoroughly enjoys your driving and never calls into question your ability to parallel park.
The Dog Bod gives you a hero's welcome…even if all you did was retrieve the mail.
The Dog Bod loves you always, no matter what, with a ferocity that is beyond comprehension. And that kinda love never goes out of style.
So there you have it, people. Enjoy some Dog Bod today.
Heaven knows this world needs all the love we can muster, whether of the human or animal variety. Like Anne Lamott says: A dog's love is the closest many of us ever get to God's love. Connect with Reba Riley on Facebook Twitter Goodreads 
Next week, Reba will be in Seattle (5/16)  and Portland (5/17) part of the Where's God When tour with Paul Young, author of The Shack, and Patheos blogger Christian Piatt, where she will be talking about spiritual healing (not the Dog Bod). She'd love to see you there! Details and tickets HERE www.WheresGod.org
Connect with Reba Riley on Facebook Twitter Goodreads 
Add 
Post-Traumatic Church Syndrome: A Memoir of Humor and Healing
(Howard Books, August 2015) to your 
Goodreads Bookshelf