Thanks to the (glorious!) fact that weekends often give us a little extra time to catch up on our reading, I'll be posting book excerpts at the end of each week. It is my hope that these brief looks at recent releases and old favorites will help you find new voices to accompany you on the journey. –Love, Reba
Today's inaugural #FridayReads post is from Out of Sorts: Making Peace with Evolving Faith by the talented Sarah Bessey. Though I do not know Sarah personally, I've had the pleasure of experiencing her wise voice through her award-winning blog and her first book, Jesus Feminist.
Sarah's latest work, Out of Sorts "teaches us how to be as comfortable with uncertainty as we are with solid answers. And as we learn to hold questions in one hand and answers in the other, we discover new depths of faith that will remain secure even through the storms of life".
"What you will find in these pages is nothing short of a gift. There are plenty of us out here reimagining, rethinking, reevaluating, restarting. You aren't alone….Thank you, my dearest Sarah Bessey, for helping us find our way back home." —Jen Hatmaker, author of For the Love
Chapter 2
There's Something About That Name: On Getting to Know Jesus
In my twenties, I decided to stop being a Christian because I did not want to be associated with the Church.
But I was still fascinated with Jesus.
For some time, I had been growing disenchanted with the Industrial Church Complex. I found some solace in the emerging church and in the rediscovery–for me, anyway–of ancient church traditions and the broader Church. I found progressive, thoughtful, and brilliant people among Christians. But for me and the Bride of Christ? Well, it still felt like I was just hanging on to a relationship that had already ended.
When I made the decision to stop going to church and to stop calling myself a Christian, it didn't feel good. But there had been a long litany of abuses, burn-out, and exhaustion. The trail of hurt people, wounded souls, and even dead bodies was too great. It weighed on my soul, and I felt tremendous grief. I couldn't align myself with this anymore.
I could no longer reason away or gloss over the systemic abuses of power, the bitterness, the bigotry and hypocrisy, the sexism and racism, the consumerism, the big business of church that was consuming people and spitting them out for the "greater good." Church became the last place I wanted to be. I didn't trust Christians. And I was tired of pretending that those things were not real.
But through it all, I somehow knew one thing: this wasn't Jesus. Maybe it's because of my childhood foundation, but I instinctively knew that this Industrial Church Complex was not the stuff of the Prince of Peace. Even as I grew more disenchanted with organized religion, I was still hanging onto the hem of his garment, begging for healing.
"I don't think I can be a Christian anymore," I told my husband. I needed to separate from that word for a while; it felt too full of baggage and weight. I felt like it aligned me with people from whom I would rather separate.
I began to call myself a follower of Jesus, instead of a Christian. I don't know why I thought that was a big difference but to me at the time, it meant something. False construct, a trick of language alone perhaps; but I needed the space it gave my soul.
Then came the day when it dawned on me that if I was going to call myself a follower of Jesus, I should find out what that meant. It sounds so silly to write it out, but that is actually what happened. One day I realized that for years I hadn't thought about Jesus much beyond "he's cool." If I was going to orient my life around some guy named Jesus, it had to be more than a rejection of Christianity as I understood it in my narrow context and experiences.
In Is God to Blame, Greg Boyd says,
Jesus is the perfect expression of God's thought, character, and will. He is God's self-definition to us. We have seen that in Christ, God defines and expresses himself as a God of outrageous love. He is for us, not against us. God also defines humans as undeserving people with whom he is nevertheless in love. This is the Word and image of the true God.[i]
To know Jesus is to know God. And I found myself saying, without knowing what it meant, that I wanted to be like Jesus. And to be honest, I was growing tired of defining myself by what I wasn't.
I started where most good Protestants start: the Bible. I made the decision to read only the Gospels for a while–the books of Matthew, Mark, Luke, and John.
***
Jesus was not what I expected. Not what I remembered. I had expected a comfortable wise man, someone saying nice things about being nice and kind to people. I think I expected a version of Jesus I had tricked out of my memory: comfortable, safe. Clearly I'd blurred the Jesus of my childhood with the real one of the Gospels.
***
Jesus. His name felt like every question and every answer. There was a strain of something like unearthly music to his name, and part of me still believes that my desire to be like Jesus was the Spirit's call–deep calling unto deep,[ii] as the psalmist wrote.
My broken heart –cynical, jaded, frustrated, angry, wounded–somehow exhaled at every mention of his name.
***
I read through all of it. And then again. And then again. Sometimes Jesus confused me, and sometimes he made me angry. Sometimes I thought he acted like a bit of a jerk. Then I began to read what other people thought about Jesus. I began to realize that I didn't understand much about the times of Jesus or what his parables meant to the audience who was listening to him so I studied it. Sometimes I experienced moments of startling clarity. (Sometimes.) I didn't want to sing sweet songs about Jesus anymore. Who was this man?
One of my first moments of clarity came in the book of Luke chapter 6. I had been reading the Gospels for nearly a year already by then, studying them, soaking in them. In that one passage of Scripture, Jesus had done everything from preaching the Sermon on the Mount to subverting our understanding of the Sabbath to telling us to love our enemies and give our lives away.
The entire chapter is so full and rich and robust, you could pretty much camp there for the rest of your life and still have something to learn at the end of it. But that day, as I read chapter 6, I was, well, angry. I felt ripped off.
Because this Jesus, the one here in the pages of my Bible, the one who spoke in the red-letters, the one I was yearning to know in my heart of hearts and walk behind every day—this Jesus was so different than all those other Jesuses. He wasn't in a tidy box. He wasn't the property of any one religion or denomination or belief system, or of a governmental system or a financial system or a lifestyle. He was bigger, wilder, and more wonderful than all of that. And it made me feel angry to realize it.
I was sitting at our kitchen table while reading, and my husband was working in the kitchen because he had just brought in a load of vegetables from the garden. He was innocently stacking cucumbers and kale when I slammed my Bible on the table and hollered, "I'd follow that guy!"
After Brian peeled me off the ceiling, we ended up having a good talk about why I felt so angry as I read something I loved. Because I did love it. This Jesus is the one I wanted to know, this is the one I wanted to love, this is the Jesus I wanted to follow. I knew in that moment I would never walk away from Him, that it was worth it to shape my entire life around Him–however weird that looked sometimes–and He was why I wanted to learn a new way to be a Christian.
***
It strikes me as funny that my faith journey started with an easy childish love that turned into an intellectual rational understanding of Jesus, which lead me right back to where I began: a passionate love for my Jesus.
I thought I grew out of the flags and the happy-clappy Jesus-is-my-boyfriend songs, that I was too wise and smart for such sentimental things but in my maturity now I want to shout out hallelujah and fling myself to the ground prostrate, in gratitude for dirt and little boys, for babies and the lines around my eyes, for Johnny Cash and pine trees at dusk, for the taste of cold water and the vineyard, for the piano and the ones from among us who stand to lead us out into the day singing.
As I sorted through what I thought I knew about Jesus, my intellectual, rational understanding of Jesus turned again to love. Even now, I know that I don't know him as well as I will someday. I know there are blind spots and places of question and doubt. I question, and I am refined by the questions. And now, I can only repeat the words of Peter in John 21:17 right before he betrayed Jesus, "Lord, you know everything. You know that I love you."
***
After a long wander, I have found myself back in a school gymnasium, bathed in the presence of Jesus, with my hands up to the rafters. I'm not a skinny kid anymore, I'm one of the church mothers now with children at my side or balanced on my hips. I don't dance much these days, but I'm still singing it out loud:
Oh, Lord, you're beautiful
Your face is all I seek
And when your eyes are on this child
Your grace abounds to me. [iii]
[i] Is God to Blame? P 39 Greg Boyd
[ii] Psalm 42:7
[iii] Green, Keith. Oh, Lord, You're Beautiful. Universal Music Publishing Group.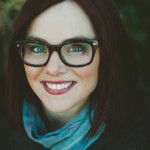 Sarah Bessey is the author of Jesus Feminist. She is an award-winning blogger at www.sarahbessey.com and a writer. Her new book is Out of Sorts: Making Peace with Evolving Faith. She lives in Abbotsford, British Columbia, Canada with her husband and their four tinies. You can find her on Twitter at @sarahbessey.