There are two ways to take the #AmericaIs Kind Challenge:
#1: On social media, SHARE an ACT OF KINDNESS you have witnessed with the tag #AmericaIsKind, then PAY IT FORWARD by doing a random act of kindness for a stranger. TAG 3-5 friends to take the #AmericaIsKind Challenge to keep the acts of good going.
#2: Participate in the

30-day #AmericaIsKind Challenge

, where we are turning our #GratefulToGood by practicing gratitude and acts of kindness every day for a month. You can find the daily gratitude, acts of good, and highlighted charities

HERE

. Jump in or out any day…whenever you find the challenge is the perfect time to begin.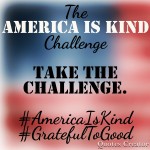 Today is Day 10 of the 30-Day #AmericaIsKind Challenge:  Our theme today is the ARTS, and our Charity of the Day is: Artworks.
"ArtWorks is an award-winning non-profit organization that employs and trains local youth and talent to create art and community impact."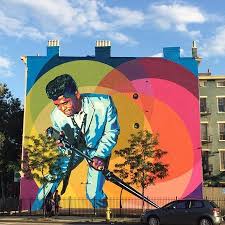 Gratitude: "I am grateful for the arts in my community."
Good: Create. Make something–anything!– a card, flower arrangement, painting, Lego sculpture, for a friend who needs cheering up. Bonus kindness points if you involve a child.
Good: Visit. The nearest city to you likely has a museum, arts center, or theater you've never been to. Take the time to check out the options–most arts organizations have at least one day a month where admission is discounted or free. Take that same friend (or a different one) to share the new experience with you.
Good: Thank an artist/author.Pick a living artist or author whose work has inspired you and write to tell them thank you. People (including me, before I became an author) assume these folks are too busy to read emails or social media walls, but it isn't true! Artists appreciate knowing their work has made a difference.
Good: Donate. Consider making a donation to  Artworks, or a community arts organization in your area.
Reba Riley is the author of Post-Traumatic Church Syndrome: One Woman's Desperate, Funny, Healing Journey To Explore 30 Religions By Her 30th Birthday, the 2016 memoir Elizabeth Gilbert calls: "Hilarious, courageous, provocative, profound…Reba Riley brings the light for seekers of all paths. If Eat Pray Love had a gutsy, wise, funny little sister, it would be Post-Traumatic Church Syndrome." She is a motivational speaker, blogger, and television contributor. You can find her online on Facebook Instagram Twitter