The purpose of the #AmericaIsKind Challenge is simple: 
To remind us all that America is GREAT when Americans are KIND.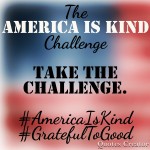 Today is Day 19 of the 30-Day #AmericaIsKind Challenge:
Our theme today is SCIENCE, and our Charity of the Day is: The National Girls Collaborative Project.
"The vision of the NGCP is to bring together organizations throughout the United States that are committed to informing and encouraging girls to pursue careers in science, technology, engineering, and mathematics (STEM)."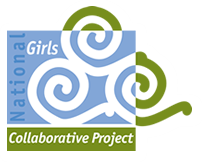 Gratitude: "I am grateful for the beauty of the night sky, and for all we know about our solar system thanks to our scientists."
Recently I had a friend visit a man on death row who has not seen the night sky for twenty years, and will likely never see it again. He talked about his desire to see just a single star, one last time, before his death. Before hearing that story, I had always taken the night sky for granted: the moon and stars and darkness show up every night. But now I pause to be by grateful–both that I can see the stars, and that we know so much about our night sky because of our scientists.  Here's to more girls becoming scientists (and astronauts!), so we will know even more in the future. 
Good: Take #AmericaIsKind to SPACE— tweet to NASA's 1st female International Space Station Commander, scientist and astronaut Peggy Whitson ( @astropeggy  ) who launched earlier this week. Tell her and the whole @NASA and @Space_Station team how much we appreciate their work, and tell Peggy THANK YOU for being such an amazing role model for girls in STEM
Good: Tonight, enjoy looking up at the night sky with a loved one. Take it all in–the vastness of space, the bright stars, the moon–and feel the awe that natural beauty inspires
Good:  Know someone who has lost a family member?  Register a star in the deceased's name at Name a Star, so your friend can always look up at the sky and know they are being watched over by a special star
Good:  Download one of these mobile stargazing apps and go star gazing with your daughter, niece or granddaughter
Good: Find your local planetarium  and schedule a time to take the family–or a young girl you know–for a visit
Good: Consider donating to our Charity of the Day The National Girls Collaborative Project, to help "leverage of a network and the collaboration of individual girl-serving STEM programs to create the tipping point for gender equity in STEM" so we can have many more future Peggy Whitsons!
Need more kindness & gratitude ideas? We have them.Find the other days of The #AmericaIsKind Challenge HERE.

During the year I explored 30 religions, I found KINDNESS and GRATITUDE present in every faith. In spite of our many differences, these qualities unite us.
Later, through a yearlong battle with clinical depression, I discovered that practicing KINDNESS and GRATITUDE are two of the scientifically-proven ways to defeat depression and increase happiness.
Coincidence? I don't think so!
I came up with the #AmericaIsKind Challenge as a way to inspire the practice of kindness and gratitude, unite Americans with the things we have in common, help others who may be struggling with depression, and to remind us all America is kind because Americans are kind.
For daily inspiration & ideas,  follow Reba Riley, author of Post-Traumatic Church Syndrome: One Woman's Desperate, Funny, Healing Journey To Explore 30 Religions By Her 30th Birthday on: