I had the great joy to meet Shannon, the creative wonder behind Organic Mama's Shop, when she came to Dallas a few weeks ago. We'd been facebook friends since the Edel Gathering in Austin, and I'd been not-so-secretly drooling over her rosary bracelets. When she offered me one to review for my blog, I jumped at the chance! My only problem was picking just one. In the end, I picked one for her to  send, and bought another for myself. I'm so thrilled that I did!
I ended up choosing the green turquoise bracelet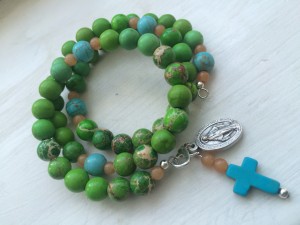 and a custom order where I simply told her "I really like red."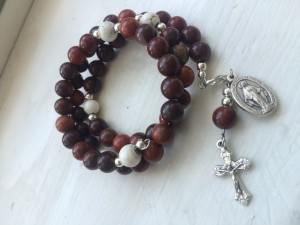 Neither picture does them justice at all. The vibrancy of the lime green and turquoise make me smile whenever they catch my eye, but it's the unexpected richness of the other one that I like best. It's not a plastic-y red, but a deep burgundy that shines and changes in unexpected ways in the sunlight. (My 5-year-old said, "It's the color of Dr Pepper in the sunlight." He's right.)  I've worn one or the other every day since they arrived in the mail.
I have other rosary bracelets, but these are far and away my favorites. The long coil of memory wire means that they can fit any wrist size easily. The genius of their design has the Crucifix as a moveable piece, so that I can mark my place every single time that I get interrupted mid-prayer.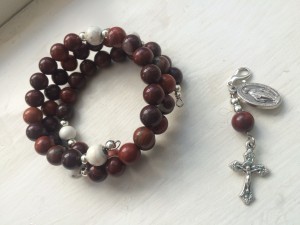 I love, love, love this idea!
When you have some time to shop, go and check out her store. I know I have been. Right now, I've got my eye on one of her nursing bracelets – no, I'm not pregnant again – I'm thinking it would be great as a medicine reminder to keep track of when I gave the last dose.
I've got my eye on this beauty right here! Isn't it cute? It's just the thing for a forgetful mom like me.
It will probably be mine before the week is out because of the 20% discount. Did I forget to mention that? From now until Oct 25th, enter the code SHOVEDTOTHEM to get 20% off of your order. Sweetness!
Christmas is coming. Trust me, this is one gift I know you're gonna want to get and give. I know I do!